At least 97 killed as extreme cold sweeps across Pakistan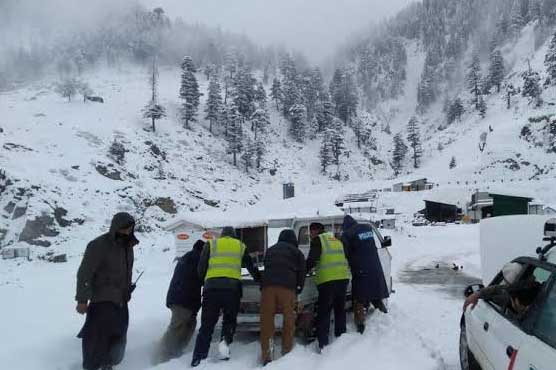 According to the NDMA, rains in Balochistan have claimed 20 lives and 35 homes have damaged.
LAHORE (Dunya News) – A severe cold snap, snowfall and rain-related incidents have claimed the lives of at least 97 people across Pakistan in the last three days while several others were injured, according to the National Disaster Management Authority's (NDMA) official statement on Tuesday.
As heavy snowfall and rain continued to lash parts of the country, particularly northern areas, 62 people have been killed and scores of others were injured in land sliding and avalanche over fifteen villages in Azad Jammu and Kashmir.
According to the NDMA, rains in Balochistan have claimed 20 lives and 35 homes have damaged.
In Neelam valley, the death toll of people who died in an avalanche rose to 21 while several others are still missing. 42 injured people were shifted to nearby hospitals for medical attention. According to the available data, 45 houses are fully destroyed in AJK.
Teams of the NDMA and other relevant departments have been carrying out relief operation in the affected areas. The affected families are being provided food, blankets, medicine.
Major thoroughfares in Balochistan, including Bolan Road, Khanozai Road and Quetta-Chaman Road have been closed for the time being, the statement said, adding that the most snowfall recorded in Khyber Pakhtunkhwa province was at Lowari Approach Road at a whopping 23 inches.
Mainly cold and dry weather is expected in most parts of the country in the next 24 hours, with very cold in upper parts and north Balochistan, said the authority in its weekly outlook. Cloudy weather with light rain and snowfall over hills is expected in Gilgit Baltistan and Kashmir.
The officials advised people, particularly tourists, to avoid unnecessary travel in snowbound and landslide-prone areas during the prevailing weather conditions.
Met Office has issued a warning statement saying: "Risk of closure of inter cities connecting roads due to heavy snowfall and rains in the districts of Swat, Kohistan, Shangla, Buner, Mansehra, Abbottabad, Murree, Galyat, Neelum, Bagh, Haveli, Rawalakot, Astore, Hunza and Skardu on Monday(Night). Heavy rains may trigger landslides and Avalanches in Kashmir, Gilgit-Baltistan, Malakand and Hazara districts."