Govt, opposition harmonizes on NAB Ordinance Amendment Bill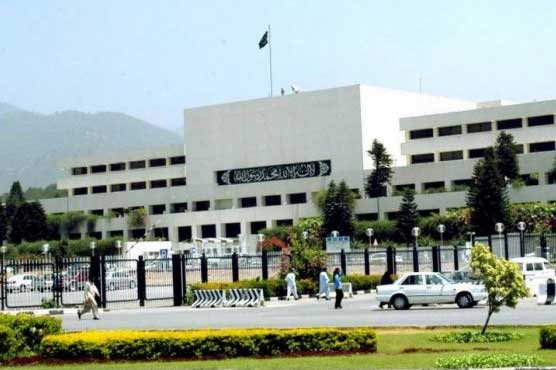 PPP will also be consulted on the bill which was introduced in the Senate.
ISLAMABAD (Dunya News) – The government and the opposition has come to a mutual agreement on the new legislation by agreeing to include the opposition's proposals in it following the approval of the Army Act Amendment Bill.
According to details, the dialogue between both parties was held at the Speaker's chamber. Federal Minister for Law and Justice Farogh Naseem, Minister for Parliamentary Affairs Azam Sawati, Pakistan Muslim League-Nawaz (PML-N) MNA Rana Sanaullah, PML-N stalwart Rana Tanveer, Khawaja Saad Rafique, Senior leader of Pakistan Peoples Party(PPP) Syed Naveed Qamar and PPP leader Raja Pervez Ashraf were present in the meeting.
According to sources, the government has agreed to withdraw more than a dozen bills and ordinances along with the completion of the legislative process in just a single day. The government has also agreed to include opposition's proposals in the NAB ordinance. In this regard, the PPP will also be consulted on the bill which was introduced in the Senate along with the proposal that was drafted in the PML-N's era.
Rana Sanaullah expressed that unanimous points will be added to the new law by keeping the proposed agendas of the government and the opposition about the anti-graft watchdog.
According to the formula set by the government and the opposition, three out of nine ordinances would be approved, while four out of the six bills will be passed unanimously. The two bills will be presented to the National Assembly after approval by the Standing Committee.