Last Updated On 06 January,2020 11:30 pm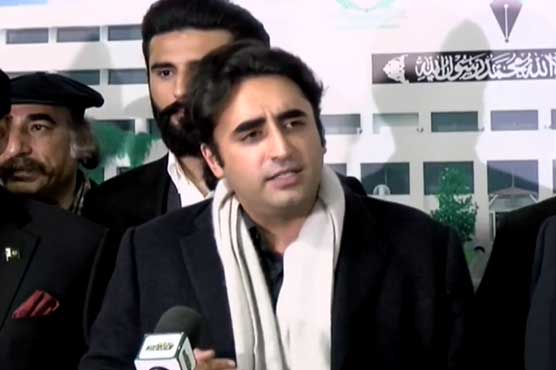 Bilawal Bhutto demands that the new Army Act passes in a democratic manner.
ISLAMABAD (Dunya News) - Peoples Party Chairman Bilawal Bhutto Zardari on Monday said that a very dangerous situation is taking shape in the region, and Pakistan cannot afford another war on the border.
Meanwhile talking to media representatives outside the Parliament House, he expressed that the rules and regulation of the Army Act should be strictly followed. He said that the importance of the House was lowered by passing the Amendment Bill.
The scion of Bhutto dynasty said that his party wants to give the Parliament its due respect. "We demand implementation on the orders of the Supreme Court, and want the new Army Act to be passed in a democratic manner".
He went on to say that the questions will be raised on the government if a democratic way is not adopted by the House. He added that they also contacted the Pakistan Muslim League-Nawaz (PML-N) and they will respond on the matter soon.
Bilawal expressed that the proposals for all three amendments were presented to the committee and the National Assembly. He said that government seems to be playing a game with the opposition. "The issues that came up at the time of the notification were the result of haste made by the government", he said, adding that PPP will contact other parties in this regard to avoid the repetition of the mistake.