Last Updated On 06 January,2020 01:07 pm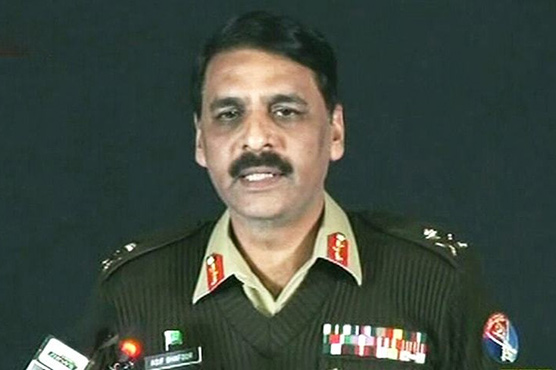 Maj Gen Ghafoor said that U.S. Secretary of State Mike Pompeo had spoken to COAS General Bajwa.
RAWALPINDI (Dunya News) – Major General Asif Ghafoor, the director general of Inter-Services Public Relations (ISPR), has asserted that under no circumstances Pakistan's land would be allowed to use against anyone.
In his talk to a local TV channel, Mr Ghafoor referred to the U.S. drone strike on Iranian General Qassim Soleimani at Baghdad Airport on Friday by stating that after the attack geopolitical changes have emerged in the region.
Importantly, he quoted Prime Minister Imran Khan and maintained that Pakistan will not be party to anyone or anything but will be a partner of peace and peace alone.
Maj Gen Ghafoor said that U.S. Secretary of State Mike Pompeo had spoken to Chief of Army Staff (COAS) General Qamar Javed Bajwa who told the U.S. official that the regional situation had been improving, and asked him that tensions between countries of the region should be reduced. He said all relevant countries should move forward with constructive practices and dialogue.
"Pakistan will support all peaceful efforts and hopes the region doesn't go towards another war," he quoted the army chief as saying.
Responding to a question regarding rumours that Pakistan would participate in the war by supporting the United States against Iran, Ghafoor said such rumours were circulating on social media. He clarified, however, that this was not the first call [between Pompeo and Gen Bajwa].
He further emphasised on General Bajwa's role for improving regional ties, and urged the general public and the media to pay attention towards reliable sources (for getting information).
"They should not pay attention to propaganda and rumours of enemies of the country […] India is playing the lead role in spreading these rumours," he urged, while adding that he had read an Indian news article that Pakistan had ditched Iran.
"Our region had been struggling for the last four decades for attaining peace, and had been facing security issues," he added.
He further recalled that Pakistan had played a vital role in the Afghan reconciliation process, and the Pakistan Armed Forces had eradicated terrorism from the country.
"Pakistan has done everything for achieving peace in the region, and will play an active role [in the future] for peace," he stated.
Regarding Indian army chief Manoj Mukund Naravane's recent statement about Pakistan, the ISPR stated that the remarks were "irresponsible".
"Indian army chief wants to enhance his position by statements […] Pakistan Army knows defense of the country," he added. Mr Ghafoor said that Pakistan Army has proved its capability against India.
---
FO expresses 'deep concern'
---
Earlier, Foreign Office spokesperson Aisha Farooqui also expressed deep concern over the escalating tension in the Middle East. "Pakistan has viewed with deep concern the recent developments in the Middle East, which seriously threaten peace and stability in the region."
The FO called for restraint and urged Tehran and Washington to avoid unilateral actions and use of force.
Meanwhile, the Trump administration authorised the resumption of Islamabad's participation in a US military training and educational programme to strengthen military-to-military cooperation on shared priorities and "advance US national security".
---
Escalating crisis in Middle East
---
Iran's Supreme Leader Ayatollah Ali Khamenei and President Hassan Rouhani have promised to avenge Soleimani's death and declared three days of mourning.
Meanwhile, Donald Trump warned late Saturday that America was targeting 52 sites "important to Iran & Iranian culture" and would hit them "very fast and very hard" if the country attacks American personnel or assets.
A tide of mourners flooded the Iranian city of Ahvaz Sunday, weeping and beating their chests in homage to top general Qasem Soleimani who was killed in a U.S. strike in Baghdad.
"Death to America," they chanted as they packed the streets and filled a long bridge spanning a river in the southwestern city, where Soleimani's remains arrived from Iraq before dawn.
The attack was ordered by President Donald Trump, who said the Quds commander had been planning an "imminent" attack on U.S. diplomats and American forces in Iraq.
In the face of growing Iraqi anger over the U.S. strike, the country's parliament was expected to vote Sunday on whether to oust the roughly 5,200 American troops in Iraq.
Soleimani's assassination ratcheted up tensions between arch-enemies Tehran and Washington and sparked fears of a new Middle East war.
In a series of sabre-rattling tweets, Trump said the choice of 52 targets represented the number of Americans held hostage at the US embassy in Tehran for more than a year starting in late 1979.
Iran's top diplomat Mohammad Javad Zarif tweeted that "targeting cultural sites is a WAR CRIME" and a red line in international law.
For Iran's army chief, the threat was an attempt to distract the world from Soleimani's "unjustifiable" assassination.
"I doubt they have the courage to initiate" a conflict in the future, said Major General Abdolrahim Mousavi.
US-Iran tensions escalated in 2018 when Trump unilaterally withdrew from a landmark accord that gave Tehran relief from sanctions in return for curbs on its nuclear programme.
Iran has hit back by reducing its nuclear commitments with a series of steps every 60 days, the most recent deadline passing Saturday.