Rana Sanuallah extends unconditional support to Army Act Amendment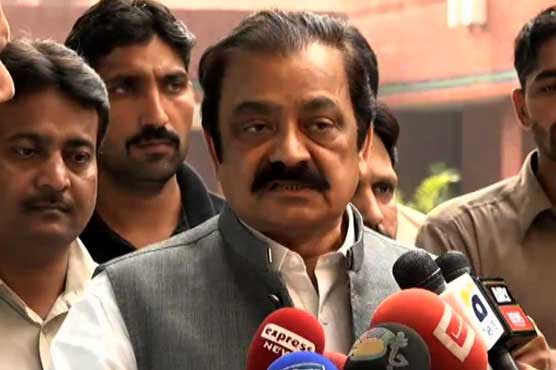 PML-N decided to co-operate with the government on the Army Act Amendment.
(KARACHI) Dunya News - Pakistan Muslim League-Nawaz (PML-N) Punjab President Rana Sanaullah said the party has decided to support the Army Act Amendment Bill and advised to refrain from making the matter controversial.
Pakistan Muslim League-Nawaz's (PML-N) parliamentary committee decided to back federal government's Army Act amendment bill in National Assembly.
According to details, the senior leadership of PML-N has directed its members of NA to approve the bill with consensus.
The decision came after government delegation headed by Defence Minister Pervez Khattak held meeting with PML-N leaders and sought their support on Army Act amendment bill.
The committee consisting Pervez Khattak, Federal Minister for Parliamentary Affairs Senator Azam Swati and Leader of the House in Senate Syed Shibli Faraz arrived at opposition's chamber and discussed the matter with PML-N's Khawaja Asif, Sardar Ayaz Sadiq, Rana Tanvir and others.
Earlier, National Accountability Bureau (NAB) launched assets beyond means investigation against former Punjab law minister Rana Sanaullah and summoned him at their office in Lahore.
PML-N leader Rana Sanaullah appeared before three member investigation team. According to sources, Rana Sanaullah's assets worth more than his sources of income.
While talking to media after meeting NAB, Rana Sanaullah said that the anti-graft watchdog investigated him regarding his income and the assets.
He expressed that PML-N always co-operated with the national body's officials and supported the rule of law.
The PML-N leader maintained that he had sought time from NAB to answer some of the questions.
On the other hand, he said the NAB Ordinance cannot be passed unless it is approved by the opposition parties. He said the government's amendments have not been included in the new NAB Ordinance.
Sanaullah pointed out that the incumbent government is working on an agenda of political revenge. "The government could not work in such a manner," he remarked.
To a question, former law minister said Nawaz Sharif's health is not good and it is not possible for Maryam Nawaz to continue politics in the current scenario.
He said, "It is not wise to comment on Nawaz Sharif's health and his condition is deteriorating day by day." He added.