Didn't support Musharraf case verdict, CJP Khosa addresses full court reference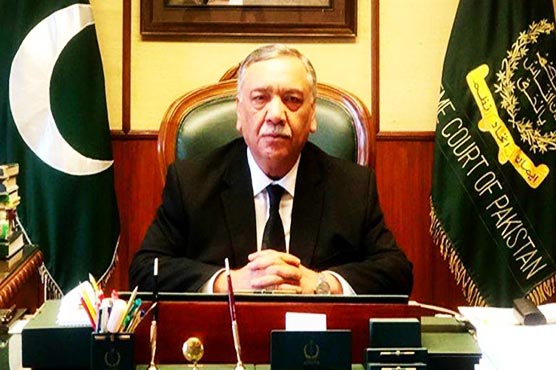 Didn't support Musharraf case verdict, CJP Khosa addresses full court reference
ISLAMABAD (Dunya News) – A full court reference to honor Chief Justice of Pakistan (CJP) Asif Saeed Khosa, who is retiring today (Friday), was held in Supreme Court (SC).

While addressing the reference, the CJP said that he had not supported the special court verdict of former president and top military official Pervez Musharraf's treason case. Media misrepresented my stance on this issue. The truth will be exposed soon, he added.
Additional Attorney General had accused me of affecting the treason case but, these allegations are baseless and incorrect, the CJP went on to say.
Meanwhile, Additional Attorney General Amir Rehman termed the procedure of Musharraf's sentence as illegal and inhumane. The special court verdict is a violation of human rights and military system, he added.
Nominated CJP Justice Gulzar Ahmed said that the judiciary has also faced such kind of cases in the past. The Constitution of Pakistan has its importance in the judicial system, he stated.
Justice Gulzar Ahmed further said that protecting nation is state's responsibility.
Vice chairman Pakistan Bar Council said that SC has full authority to review the decision of treason case.
On the occasion, SC judges, Vice Chairman Pakistan Bar Council Amjad Shah, president of the apex court and other members were also present.

However, Justice Qazi Faez Isa was on leave and attorney general was abroad due to which, they didn't attend the reference.

Earlier today, while holding the last hearing of his career, the CJP extended best wishes to everyone and hoped for the bright future of judiciary in the country.

Justice Asif Saeed Khosa will be succeeded by Justice Gulzar Ahmed who is the most senior judge of the Supreme Court of Pakistan after him. Justice Gulzar Ahmed will take oath as CJP on Saturday.
During his career as judge of the higher judiciary since 1998, Justice Khosa passed many landmark judgements and noted important judicial observations.
The cases that gave him international fame include disqualification of two sitting prime ministers -- Syed Yousaf Raza Gilani and Mian Nawaz Sharif -- and most recently extension case of Army Chief General Qamar Javed Bajwa.