Last Updated On 15 December,2019 11:19 am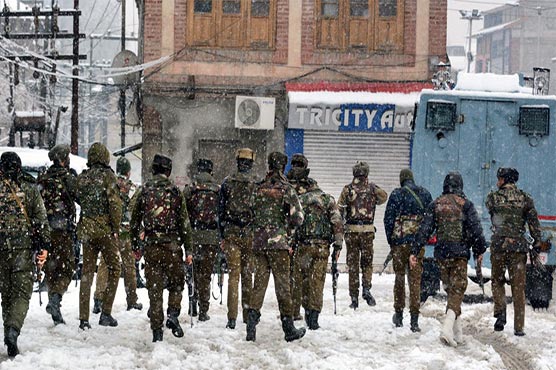 Situation in Kashmir valley continues to remain grim on 133rd consecutive day
SRINAGAR (Web Desk) – In occupied Kashmir, situation in the Kashmir Valley and Muslim majority areas of Jammu and Ladakh regions continues to remain grim on 133rd consecutive day, today (Sunday).

There is no let-up in the restrictions imposed under Section 144 in the territory amid massive deployment of Indian troops.
The increasing chill after fresh rains and snowfall has added to the miseries of the people of Kashmir Valley who have been already suffering immensely due to strict military siege since 5th August.

Meanwhile, addressing a party meeting in Jammu, the Chairman of Jammu and Kashmir Pir Panjal Freedom Movement, Qazi Irshad has said the illegal and unilateral actions of Indian government will not change the disputed status of Kashmir.

The Chairman Jammu and Kashmir Peoples Freedom League, Muhammad Farooq Rehmani has paid glowing tributes to noted mujahid commander, Abdul Khaliq Ganai alias Jamal Afghani, on the eve of his 26th martyrdom anniversary.

The President of Doctors Association Kashmir, Dr Suhail Naik, in a statement in Srinagar, demanded restoration of the internet service to hospitals on urgent basis.