Last Updated On 09 December,2019 11:20 pm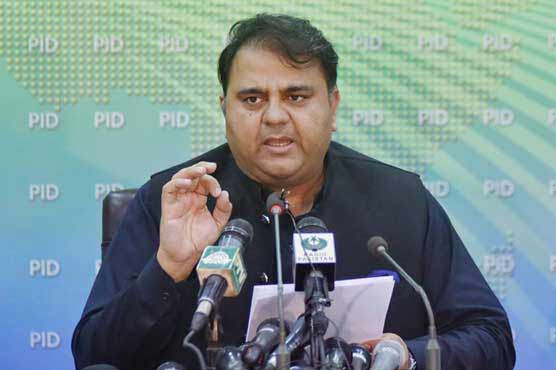 "Overseas Pakistanis are not under the control of the Pakistan Tehreek-e-Inasf (PTI)," said Fawad.
LAHORE (Dunya News) - Federal Minister for Science and Technology Fawad Chaudhry said that allowing Maryam Nawaz to fly abroad would not be in the best interest of the country but the government will respect whatever the court will decide.
Talking in Dunya News' program 'Dunya Kamran Khan Kay Sath', he expressed that Nawaz Sharif's period is also coming to an end now. He said that his health seems to be better now, so his stay in the UK does not look valid anymore.
Responding to a question about the protest outside the Sharif's residence, Fawad Chaudhry asserted that PML-N leader Khawaja Asif has made an issue out of the London protest which was actually organized by the local organization. "Overseas Pakistanis are not under the control of the Pakistan Tehreek-e-Inasf (PTI)," he added.
He went on to say that he does not believe that the PML-N's policy will change, adding that attacks against each other keep happening in the House.
On the other hand, federal minister said that the matter of the Election Commission was on the right track as it was being discussed with the opposition. He added that there will be a meeting with the opposition on Wednesday regarding the Chief Election Commissioner and members.
Referring to the extension of the Army Chief, Fawad expressed that he does not think that the PML-N and PPP will have different views. "We will decide whether to review or legislate after the detailed verdict will be released", he maintained, adding that the stance will be cleared after the Supreme Court's detailed decision.
He asserted that the PML-N voters are also angry with them as they deceived their followers.