Rain reduces smog intensity in Lahore, AQI drops at 171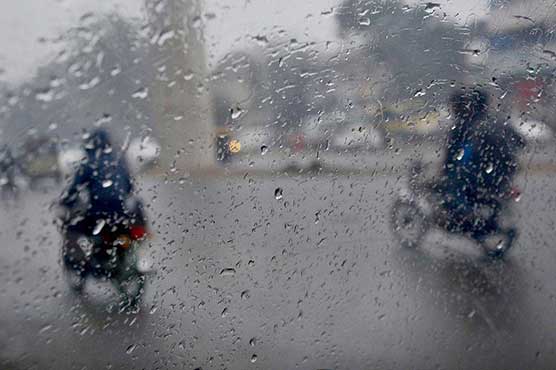 Since the start of November, Lahore's AQI has witnessed an abrupt spike.
LAHORE (Dunya News) – Rain and wind on Saturday reduced the density of thick smog that had engulfed the city for the several days after smoke of the burning crop stubble in the adjoining Indian Punjab permeated Lahore and its adjoining areas, alarming the people and government alike and forcing the citizens to take precautionary measures.
At 12 noon, the Air Quality Index (AQI) PM2.5 recorded Lahore's average air pollution at 171 – the unhealthy level – that is significant reduction from the previous hazardous level.
The Punjab School Education Department on Thursday announced to close all schools in Lahore, Multan and Faisalabad for two days.
The Met department has predicted rain, wind/thunderstorm at scattered places in south Punjab, Sindh and northeastern Balochistan, besides at isolated places in districts of upper Punjab, Khyber Pakhtunkhwa, Islamabad, Gilgit-Baltistan and Kashmir in the next 24 hours. Snowfall is also expected over mountain.
A spokesperson of Pakistan Meteorological Department told our correspondent that upper parts of Punjab and Khyber Pakhtunkhwa, Gilgit-Baltistan and Kashmir will receive more rains during the next twelve to twenty four hours.
The spokesperson said snowfall has also been reported on the mountains in Gilgit Baltistan, Kashmir and Mansehra.
Besides, intermittent rain is continuing in different parts of the country including Islamabad and Rawalpindi, which has increased the intensity of cold.
Since the start of November, Lahore's AQI has witnessed an abrupt spike.
Weather pundits told the media that the sudden rise in smog stemmed from the smoke and other pollutants from Indian Punjab's burning crops.
As per Lahore US consulate Air Quality Monitor feed, Lahore's AQI was PM2.5 – 220 at 12 noon.
In Gulberg, the AQI was 179, the Punjab Assembly vicinity observed PM2.5 at 209, Upper Mall at 173, Sandar Industrial Estate at 189, DHA Phase 5 at 206 and Zeenat Block at 198.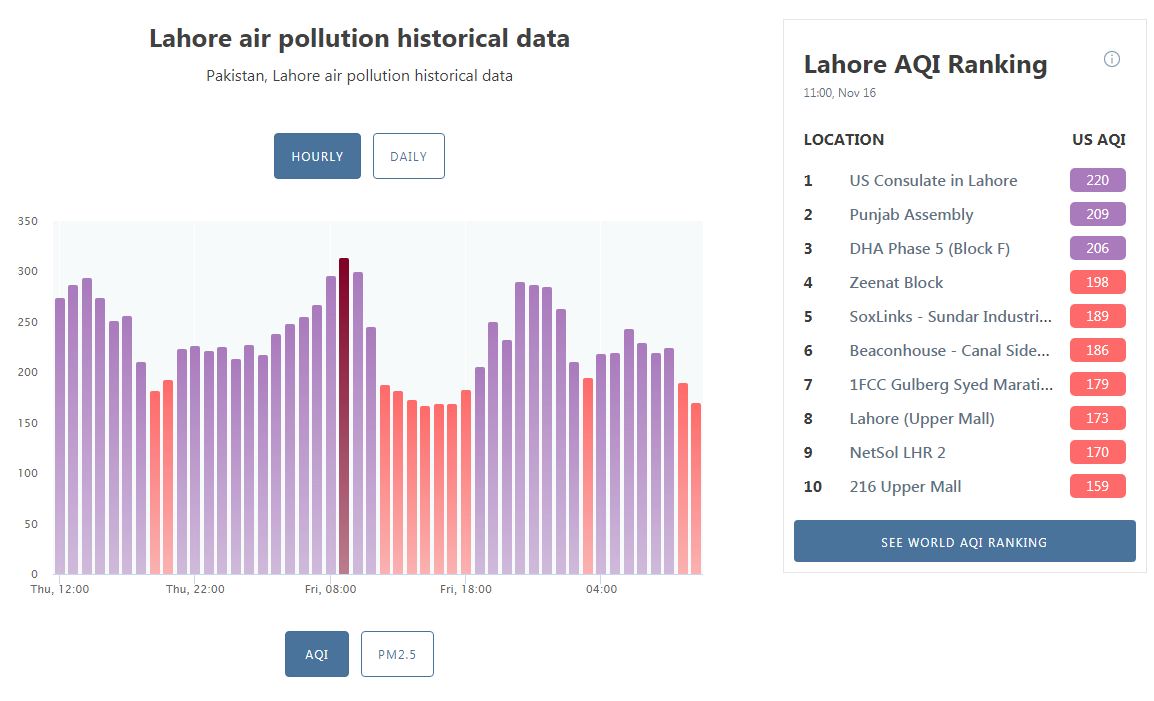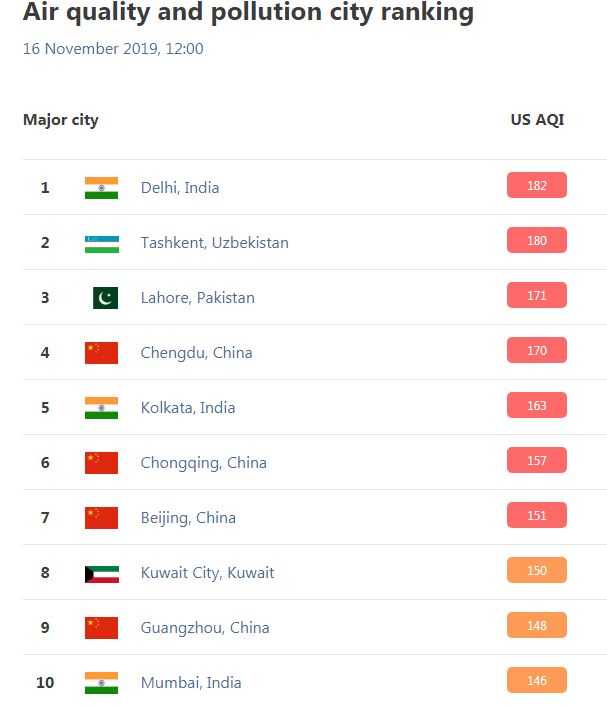 Health experts have advised people, especially children and the elderly, to remain indoors and take more liquids.
For the last four years, smog, rightly being called the fifth season of Lahore, has deprived the people of sunshine and dusk-hour charm as layers of toxic smoke engulf horizon from November to February.
An AQI between 0-50 is considered 'good', 51-100 'satisfactory', 101-200 'moderate', 201-300 'poor', 301-400 'very poor' and 401-500 'severe'. When it crosses 500 level, it falls in the 'severe plus' category.
The purpose of the AQI is to help you understand what local air quality means to your health. To make it easier to understand, the AQI is divided into six categories:
"Good" AQI is 0 to 50. Air quality is considered satisfactory, and air pollution poses little or no risk.
"Moderate" AQI is 51 to 100. Air quality is acceptable; however, for some pollutants there may be a moderate health concern for a very small number of people. For example, people who are unusually sensitive to ozone may experience respiratory symptoms.
"Unhealthy for Sensitive Groups" AQI is 101 to 150. Although general public is not likely to be affected at this AQI range, people with lung disease, older adults and children are at a greater risk from exposure to ozone, whereas persons with heart and lung disease, older adults and children are at greater risk from the presence of particles in the air.
"Unhealthy" AQI is 151 to 200. Everyone may begin to experience some adverse health effects, and members of the sensitive groups may experience more serious effects.
"Very Unhealthy" AQI is 201 to 300. This would trigger a health alert signifying that everyone may experience more serious health effects.
"Hazardous" AQI greater than 300. This would trigger health warnings of emergency conditions. The entire population is more likely to be affected.