Last Updated On 09 November,2019 11:10 pm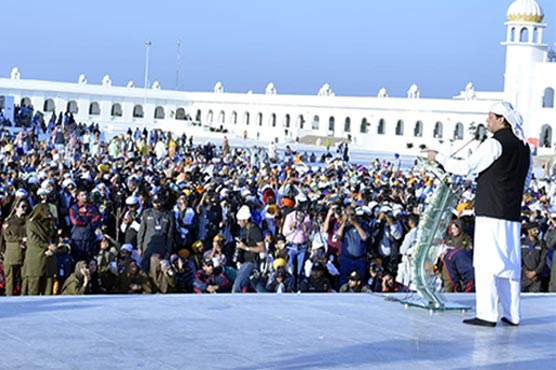 PM Imran said that a leader always unites people, and never divides them.
KARTARPUR (Dunya News) - Prime Minister Imran Khan on Saturday inaugurated historic Kartarpur Corridor which will facilitate the entry of Sikh community to visit Gurdawara Darbar Sahib in Narowal District.
On the occasion, in his message to Indian counterpart Narendra Modi, Prime Minister Imran Khan said: "Let's coexist as human beings. Imagine working together, alleviating poverty and illiteracy from the region. Just imagine the possibilities."
PM Imran expressed to believe that interfaith harmony and peaceful coexistence between both countries, India and Pakistan, will provide an opportunity to work for larger interests of people of the sub-continent.
He said a leader always unites people, never divides them. A true leader does not earn votes by spreading hatred.
PM Imran Khan while showing his optimism for the regional peace and development, said time was not far when the subcontinent would achieve prosperity once the Kashmir issue was resolved and the Kashmiris got their due rights.
PM Imran Khan said Prophet Muhammad (PBUH) united the people. He never spoke of hatred. He only spoke of bringing people together. Our religion says the killing of one human being is like killing of all humanity.
"Nelson Mandela will always be remembered in South Africa because he united people post-Apartheid. Apartheid-hit South Africa was totally divided. No one ever thought there would be peace and justice in South Africa. Everyone believed there would be bloodshed; but one leader who spent 27 years in jail forgave and united them all," he added.
"Navjot Singh Sidhu asked me to open the border; the first thing after coming into power I spoke to Narendra Modi about alleviating poverty and working together. I told him let's solve the Kashmir issue by talking and resolving like neighbors."
"I remember going to a conclave in India and telling the then prime minister Manmohan Singh that we can lift the entire subcontinent by working together. I said the same to PM Modi. But unfortunately we have a huge human rights issue at hand; eight million people are under lockdown. The way people are kept like animals," he added.
PM Imran said the rights of the people of Kashmir to self-determination, granted by the UN, were taken from them. I still maintain today; and if Mr. Modi is listening, justice is what brings peace and prosperity.
"People from India, the Sikh community can come here, and I am happy that I am here to witness this and open this corridor with you. I hope one day our relations are beyond hatred, beyond the conflict of 70 plus years."
"France and Germany fought wars but look at them today with their cross border relations, their trade. I hope to see this in the subcontinent very soon. Thank you very much for this historic moment today."
In the light of Vienna Convention on Diplomatic Privileges and Immunities 1961, the chargé d'affaires was reminded about the responsibility of the Afghan government to ensure safety, security and freedom of movement to all members of the mission.