Last Updated On 08 November,2019 08:16 pm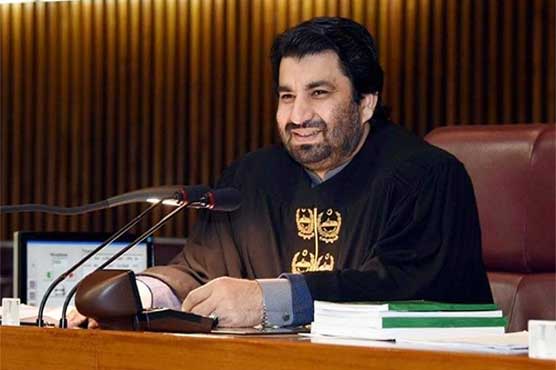 Opposition submits no-confidence motion against NA deputy speaker
ISLAMABAD (Dunya News) – Opposition on Friday has tabled no-confidence motion against National Assembly (NA) Deputy Speaker Qasim Suri under Rule 12 (removal of the speaker or the deputy speaker) of the Rules and Procedure and Conduct of Business, 2007 and Article 53(7)(c) of the Constitution.

According to details, the motion was moved by Pakistan Muslim League-Nawaz (PML-N) leaders Khawaja Asif, Khurram Dastagir, Mohsin Nawaz Ranjha, Murtaza Javed Abbasi, and Muhammad Sajjad, day after deputy speaker passed 11 ordinances in haste that no time was given to assembly members for proper debate on them.

The resolution said that Qasim Suri has violated the Rules of Procedure and Conduct of Business and lost the confidence of NA majority.

The Article 53(7)(c) of the Constitution states, "The office of Speaker or Deputy Speaker shall become vacant if he is removed from office by a resolution of the Assembly, of which not less than seven days notice has been given and which is passed by the votes of the majority of the total membership of the Assembly."
While addressing the House, Khawaja Asif said that barring opposition from holding speech in the assembly doesn't come under democracy and that passing laws through ordinances was not a "good omen".
If the government continues with this practice, it would destroy democracy, he added.
The PML-N leader said that the opposition will be forced to move the Supreme Court (SC) if government does not refrain from disrespecting the Constitution.
He said that the government representatives don't know such things which we (opposition parties) know.