Last Updated On 02 November,2019 03:37 pm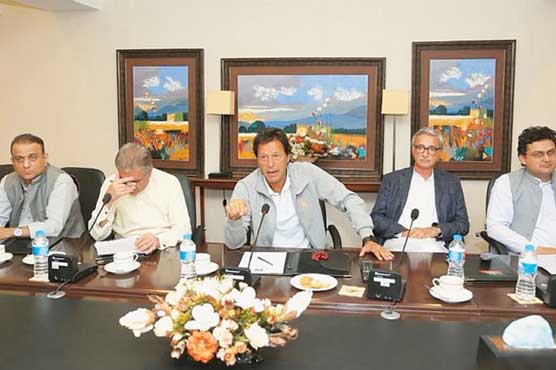 Fazal's deadline: PM Imran chairs PTI core committee meeting.
ISLAMABAD (Dunya News) – Pakistan Tehreek-e-Insaf (PTI) core committee meeting is underway on Saturday (today) to deliberate on Azadi March and Jamiat Ulema-e-Islam-Fazal (JUI-F) Chief Fazal-ur- Rehman's deadline.
Defence Minister Pervez Khattak will brief the session, chaired by Prime Minister Imran Khan, in which key decisions are expected. Furthermore, consultations will be held regarding the PM's address to the nation.
According to sources, the government's negotiation team contacted Imran Khan during the committee meeting earlier and apprised him of the prevailing situation.
The premier decided to take the PTI core committee into confidence before making any decision. It has further been learnt that the government has also contacted its allied parties in connection with the protest.
Imran Khan maintained that the opposition is free to stage sit-in for as long as it wants, the government will not create any hindrances. However, action will be taken against the marchers if the opposition violates the agreement between both parties, the PM asserted.
It is pertinent here to mention that JUI-F Chief Fazal-ur-Rehman on Friday gave Imran Khan two days to resign. "We will be forced to think of another strategy if the prime minister does not step down. We will not be able to exercise any patience after that point," he said.