Last Updated On 28 October,2019 03:15 pm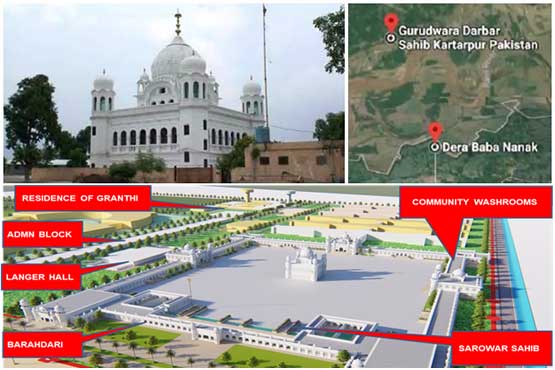 Kartarpur Corridor MoU was signed on 24 October while inauguration is planned on 9 November.
(Web Desk) - Darbar sahib Kartarpur is located 4.5 kms from International border in District Narowal, Pakistan. It is one of the holiest place for Sikhs where Baba Guru Nanak Dev Ji settled and preached for last 18 years of his life and is his last resting place also.

PROJECT BRIEF

- Ground breaking ceremony of Kartarpur Sahib Corridor project was done by PM on 28 November, 2018 with resolve to open the corridor for all Nanak naamleva irrespective of their religion on 550th Birth anniversary of Baba Guru Nanak Dev Ji on 12th November 2019.

- MoU signed on 24 October while inauguration is planned on 9 November.

- While designing the architectural and structural layout of Gurdwara Darbar Sahib Kartarpur exhaustive coordination and informed consensus has been secured, keeping in view religious and cultural sensitivities of Sikh community (across the globe).

- The project is spread over 823 acres of land and includes:-

Construction of 6.8 km long access road.
800m bridge over realigned River Ravi.
Remodeling and expansion of Gurdwara Complex over an area of 330 acres with provision of additional facilities to cater for increased number of pilgrims.
Border terminal building for facilitation of pilgrims spread over an area of 13.5 acres.
2.8 kms of flood protection bunds and
262 m bridge at zero point over Budhi Ravi creek.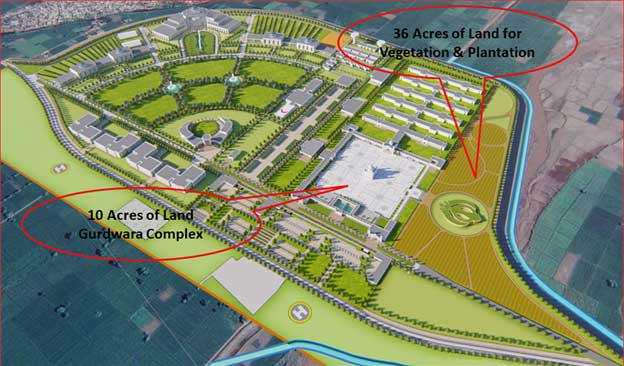 Border Terminal

A 52,000 sft covered area purpose made building to cater for speedy facilitation of pilgrims is being constructed. It has 76 counters with facility for additional 50 counters to cater for additional need during special days.

Pilgrims will have a choice to visit Gurdwara on foot or on transport provided by Government of Pakistan (buses and electric carts).

Gurdwara Complex

Government of Pakistan has acquired over 400 acres land for the establishment of Gurdwara Complex. Master plan of the Gurdwara Complex has been developed keeping in view the present and future requirements.

A flood protection dyke is constructed around Gurdwara to protect it from floods.

148 acres of land is kept for Gurdwara and allied facilities whereas rest is kept for future residential and other needs.
- In phase 1, main Gurdwara complex is extended 10 times from 4 to 42 acres including:-.

10 acres (660 ft x 660 ft) of courtyard around existing main Gurdwara building.

152,000 sft of Baradari around the Gurdwara is being constructed having darshan deories, sarovar, devan asthan, amenities and 20 dormitories to host more than 500 pilgrims.

- A purpose built Langar hall over 28,190 sft with capacity of serving over 2000 pilgrims at one time.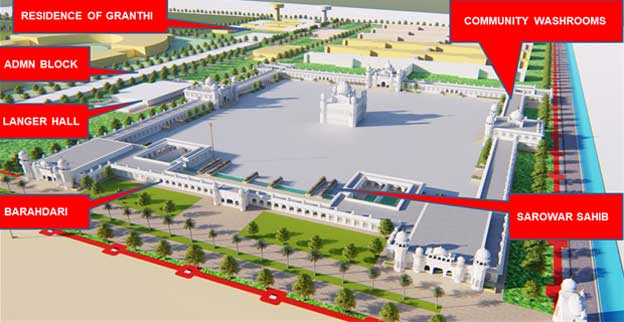 - An elaborate Mehmaan Khana over 115,880 sft area is being constructed having 20 dormitories and 40 family rooms with all facilities to host over 700 pilgrims intending night stay at Kartarpur.
- 26 acres land with additional 36 acres is designated as Kheti sahib where cultivation of crops on the land tilled by Guru Nanak will be done and served in Langar khana of Gurdwara for the pilgrims.
- During Phase 2, futuristic expansions will be carried out as per requirement and to host more than 10,000 pilgrims.

- A dedicated tent village is being constructed to host and facilitate around 10,000 pilgrims during 550th birth anniversary of Baba Guru Nanak in November 2019.

ALSO READ: Draft of Kartarpur Corridor agreement signed between Pakistan and India

- For the facilitation of Yatrees a dedicated medical emergency center, and kiosk area is also being developed.
- Dedicated security arrangements has been made to ensure safe, secure and hassle free visit of pilgrims to Gurdwara Darbar Sahib Kartarpur,
Preservation of Sacred Sites

- Special efforts made to ensure preservation of religious sacred sites within Gurdwara courtyard.

- Design including all finishes have been finalized after input and on site meetings of Pakistan Sikh Gurdwara Parbandhak Committee (PSGPC).

Project Progress

- Work on the project has been completed with bridge on River Ravi constructed in record time.