Last Updated On 28 October,2019 02:41 pm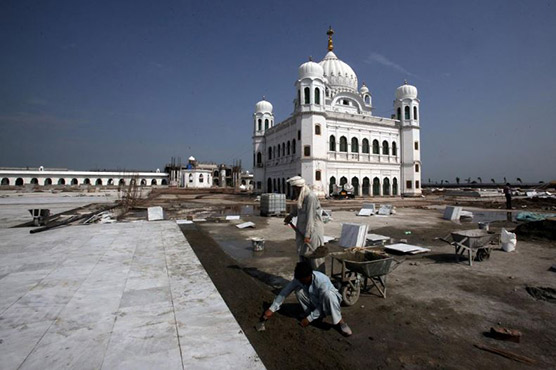 Pakistan and India signed Kartarpur Corridor agreement on October 24, 2019.
LAHORE (Dunya News) – Much-awaited Kartarpur Corridor – the first visa-free corridor between Pakistan and India since their independence in 1947 – has been signed on Thursday in a bilateral agreement during a ceremony held at Kartarpur Zero Line.
Director General South Asia and SAARC at Ministry of Foreign Affairs Dr Muhammad Faisal signed the agreement on behalf of Pakistan.
The agreement will facilitate visa free travel of 5000 pilgrims daily (to be enhanced on special occasions, subject to capacity), in groups or individually, on foot or by bus to visit Gurdwara Kartarpur Sahib in Narowal, Pakistan, from dawn to dusk throughout the year, except on public holidays or for exigencies / emergencies, which will be notified to India in advance. Pilgrims will travel on valid Indian passport. Non resident Indians will also be required to carry their Indian origin card. Pakistan will charge USD 20 from each pilgrim as service charges.
Government of India will share pilgrim lists, ten days in advance. Pakistan will share the final list of pilgrims, 4 days in advance. Advance exchange of pilgrim list will facilitate pilgrims allowing them to make plans in advance and providing sufficient time to both governments for processing.
"Today is a day of celebration," Pakistani foreign ministry spokesman Mohammad Faisal told a signing ceremony in Kartarpur. He said Prime Minister Imran Khan had fulfilled his promise and completed the corridor in a year.
"It was very, very difficult and tough negotiations with India, because of the history we have, it is never easy, it is never simple," Faisal said, while praising efforts of his team in having successful negotiations.
Faisal said the $20 was a service charge, not a fee, and pilgrims would just have to present their passports, which would be quickly scanned, to cross in. In response to a question, Dr Faisal reiterated that Pakistan's position on occupied Kashmir has not changed.
THE PARTIES AGREE AS FOLLOWS:
i. The objective of this Agreement is to facilitate visa-free travel of Pilgrims from India to Gurdwara Kartarpur Sahib in Pakistan and back to India, through the Kartarpur Sahib Corridor.
ii. In order to implement this Agreement, the Parties shall establish requisite infrastructure including construction of a bridge at Budhi Ravi Channel, at the earliest possible, facilitation centers and, counter for running security checks and identity card for the facilitation of Pilgrims, as agreed, in their respective territories to facilitate safe, secure, smooth and hassle-free movement of Pilgrims.
iii. The Kartarpur Sahib Corridor shall be operational from dawn to dusk, seven days a week, throughout the year, except for closure on notified days or exigencies which will be informed to Government of India in advance. The Government of the Islamic Republic of Pakistan shall ensure that all Pilgrims, who enter Pakistan on a given day, return to India the same day, before dusk.
iv. Pilgrims shall travel on valid passport. The Pilgrims will include Indian passport holders as well as persons of Indian origin who shall carry the Overseas Citizen of India Card along with their passports.
v. The Government of India shall share with the Government of Pakistan, through designated nodal points, details of the Pilgrims 10 days prior to their entry through Kartarpur Sahib Corridor. The Government of Pakistan shall share the final list of pilgrims, 4 days before the day of the visit, with the Government of India. For this the nodal points will establish a mechanism.
vi. The Government of Pakistan may issue and identity card to facilitate the Pilgrims visiting Gurdwara Kartarpur Sahib solely for the purpose of religious visit. The Government of Pakistan will charge USD 20 per pilgrims per visit, as service charges.
vii. 5000 Pilgrims shall be permitted to visit Gurdwara Kartarpur Sahib through the Kartarpur Sahib Corridor on any given day, with any additional provision for more Pilgrims on special days including Gurpurab, Baisakhi, etc., subject to capacity.
viii. The Pilgrims may travel as individuals or in groups, as per their choice. The Pilgrims may preferably constitute a group of at least 15 people. Pilgrims may also travel through the Kartarpur Sahib Corridor on foot.
ix. It shall be the responsibility of the Parties to ensure that the Pilgrims do not carry any item from either side, mentioned in the list annexed to this Agreement.
x. The Agreement shall be implemented in accordance with the national laws, rules and regulations of the Parties. The Agreement does not affect the existing commitments under the Agreements entered between the Parties and obligations under International Law.
xi. The Parties shall designate nodal points on either side for sharing concerns, if any, arising out of the day to day operation of this Agreement.
xii. The operation of the Kartarpur Sahib Corridor may be suspended in case of exigencies or persistent violation of the provisions of this Agreement.
xiii. The designated nodal points between the Border Security Force and the Pakistan Rangers will deal with emergencies and exigencies, including medical evacuation of the Pilgrims.
xiv. A Joint Workin Group (JWG) shall be constituted by the Parties for facilitating the smooth implementation of this Agreement.
xv. All differences arising from, or in connection with, the interpretation of this Agreement shall be amicably settled between the Parties through diplomatic channels.
xvi. This Agreement may be amended, supplemented or modified by written mutual agreement of the Parties.
xvii. This Agreement shall enter into force on the date of signatures by the Parties and shall remain valid fo a period of 5 years, uncless terminated earlier. The parties may extend the duration of this Agreement for any period by mutual consent in writing.
xviii. Either Party may terminate this Agreement at any time by giving a notice of one month to the other party of its intention to terminate this Agreement.
---
PM Khan to inaugurate corridor on Nov 9
---
Prime Minister Imran Khan will inaugurate the project on November 9, three days before the 550th birth anniversary Baba Guru Nanank that will be celebrated on November 12.
Prime Minister Imran Khan, in a message shared on social media on Sunday, reiterated that the work on the Kartarpur Corridor has entered last stage.
He further mentioned that Sikhs from all countries will travel to the world s largest Gurdwara. "This Gurdwara will strengthen local economy […] many jobs will also be created in travelling, religious tourism and hospitality sectors," he stated. "Buddhists have also been coming to visit different religious spots in Pakistan."
The historic agreement aims to allow the intending Sikh pilgrims visit Baba Guru Nanak's shrine – one of Sikhism's holiest sites in Pakistan where Guru Nanak, the founder of Sikhism, died in the 16th Century.
Without a visa, Sikh pilgrims are expected to visit the shrine on the 550th Birth Anniversary of the founder of Sikhism in early November. The corridor leads from the border straight to the gurdwara.
While Sikh pilgrims do not need a visa for Pakistan; however they are required to obtain a permit before their departure.
The Sikh minority in India has long sought easier access to the temple, which is just over the border in Pakistan.
The shrine is about 4 km (2-1/2 miles) from the border. The crossing and corridor - including a road, bridge over the Ravi River and immigration office - will replace a drawn-out visa process and circuitous journey through Pakistan
All the details about the process haven't been released by officials yet, but we know that visitors must apply online for a permit, which will then need to be approved by both India and Pakistan.
---
'Corridor to promote human respect'
---
Earlier today, in a series of tweets, Special Assistant to the Prime Minister on Information and Broadcasting Dr Firdous Ashiq Awan said that Kartarpur Corridor agreement would open a bright chapter of promotion of human respect and fraternity.
She stated the agreement was a practical evidence of Pakistan being flag bearer of interfaith harmony and peace.
"Kartarpur Sahib is a holy place for the Sikh community and we warmly welcome our Sikh brethren."
She said Prime Minister Imran Khan has fulfilled another promise. She said the project, whose groundbreaking was performed on November 28 last year, has been completed in less than a year.
---
Construction enters final stage
---
Reportedly, construction process and painting of the shrine has been completed and electricity has been supplied to the site from Shakar Garh's grid station.
Imported marble has been used on the floor of the shrine that is spread on 10 acres. Fire extinguishers, sound systems and CCTV security cameras have been installed at the site.
Hundreds of labourers are still busy putting finishing touches to the gurdwara and its expansion, which is spread across 42 acres.
Besides, construction of temporary guesthouses and a border terminal building has also been completed.
The expansion includes a new courtyard, museum, library, dormitories, locker rooms, an immigration centre and an embankment to protect the temple in case of floods.
Pakistan had also accepted India's demand of facilitating visa-free movement of 5,000 Sikh pilgrims per day, and now they will have to just obtain a permit to visit Kartarpur.
In November last year, Khan laid the foundation stone for the corridor, months after he assumed office after winning majority of seats in the parliament. India's cricketer-turned-politician Navjot Singh Sidhu and other officials had attended the ceremony.
Tensions between India and Pakistan have escalated after New Delhi revoked Jammu and Kashmir's special status.
Reacting to India's move on Kashmir, Pakistan has taken a number of actions, including downgrading of diplomatic ties, suspension of trade and rail traffic, and expulsion of the Indian High Commissioner.
---
Manmohan Singh invited for the opening
---
Speaking on the invitation to former PM Manmohan Singh, Pakistani Foreign Minister Shah Mehmood Qureshi on Saturday said he (Manmohan Singh) will visit Pakistan as a 'yatri' (ordinary citizen) and not as chief guest for the corridor's opening.
"He is welcome even as a common participant," the Foreign Minister Shah Mehmood Qureshi said while talking to the media on Saturday.
Mr Qureshi said Prime Minister Imran Khan would inaugurate Pakistan's part of the corridor, facilitating pilgrimage of 5,000 Indian Sikhs everyday to their holy place. India was initially reluctant to open the corridor but due to public pressure from the Indian Punjab, New Delhi decided to arrange a ceremony related to the corridor the same day, he said, adding that the arrangements made by Pakistan were way better than those being finalised by India.
Earlier, Pakistan formally invited former prime minister of India Manmohan Singh to attend the opening ceremony of Kartarpur Corridor on the occasion of the 550th Birth Anniversary of Baba Guru Nanak.
---
What is the significance of the shrine?
---
Gurdwara Darbar Sahib Kartarpur, also called Kartarpur Sahib, is a gurdwara in Kartarpur, Shakargarh, Narowal District, Pakistan.
It is built on the historic site where Guru Nanak settled and assembled the Sikh commune after his missionary travels. The present gurdwara is built on the site where Guru Nanak died on 22 September 1539.
The shrine was built to commemorate the site where Guru Nanak spent the last 18 years of his life until his death in 1539.
The present building was built in 1925 at a cost of Rs.1,35,600, after the original one was destroyed by floods. It was repaired by the Government of Pakistan in 1995, and fully restored in 2004, at a significant amount.
It is considered to be the second holiest site for Sikhism after Gurdwara Janam Asthan in Pakistan, which was built at the site where Guru Nanak was born.