Last Updated On 23 October,2019 02:11 pm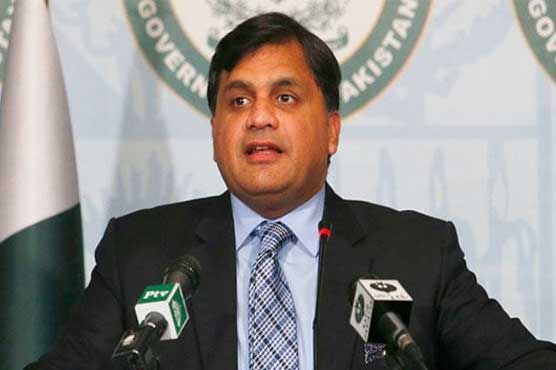 The Indian High Commission officials in Islamabad were also invited but they did not show up.
ISLAMABAD (Dunya News) – Foreign Office Spokesperson Dr Muhammad Faisal said on Wednesday that Pakistan has not harboured any "aggressive designs", however our armed forces and people were ready to defend the homeland against any acts of aggression.
Dr Faisal, during a weekly press briefing, stated that the irresponsible allegations of the Indian army chief and the lack of response from India has not only exposed the lies and deceit being employed as a state policy but an Indian aggressive posture "which is a growing threat to regional peace and stability."
He said the visit of diplomatic corps has further exposed the Indian falsehood to the international community and the desperate attempts being resorted by India to divert international attention from the humanitarian nightmare in Indian occupied Jammu and Kashmir.
The FO spokesperson mentioned about three Kashmiri youths martyred by Indian troops in Pulwama district of the occupied valley in India's fresh act of state terrorism. He stated that the ongoing stringent curfew imposed in the region has further deteriorated the intense dispute and eight million Kashmiris have been isolated from the entire world.
He reiterated that the Indian High Commission has remained failed to tell coordinates of alleged terrorist camps which Indian army had claimed to destroy inside Pakistan. "Indian troops violated ceasefire across LoC on Oct 19 and 20 […] 25 houses were destroyed in Jura sector."
Regarding the Kartarpur Corridor, Dr Faisal affirmed that Pakistan has pushed the efforts for completion of the corridor with sincerity. "Our effort is to get the agreement signed by tomorrow […] a draft is being prepared for charging service fee of $20 per pilgrim [who intends to visit Kartarpur]."
"Indian politicians want to gain credit for the Kartarpur Corridor […] Kashmir dispute should be resolved in accordance with the will of the people of Kashmir," he said.
Earlier, Pakistan arranged a visit of the diplomatic corps in Islamabad along with national and foreign media to the site of recent Indian ceasefire violations which resulted in the shahadat of five innocent civilians on the Pakistani side and injuries to six others.
The diplomatic corps and media were taken to the LoC, including Jura to witness firsthand the fallacy of the Indian claims.
At the firsthand, they witnessed the destruction of life and property resulting from the recent Indian ceasefire violations including use of heavy artillery. The Indian High Commission officials in Islamabad were also invited but they did not show up.
---
Pakistan to attend meeting on Afghan peace in Moscow
---
About Afghan reconciliation process and restoration of peace in Afghanistan, he said Pakistan will take part in the upcoming round of a multilateral meeting on the Afghan peace process, scheduled to be held in Moscow on October 25.
Dr Faisal mentioned that the FO's additional secretary for Afghanistan/West Asia will represent Pakistan at the meeting.
"Pakistan has been a part of all efforts and processes so far to discuss and facilitate peace and reconciliation efforts in Afghanistan.
"Pakistan's role is particularly noteworthy in crystalising international convergence for a peaceful resolution in Afghanistan."
"The next round is being held in Moscow at an opportune moment as it would provide an important opportunity to review the currently stalled peace process."
He added that Pakistan would continue its efforts of "wholehearted support as its part of shared responsibility for making the international peace efforts successful in Afghanistan".