PM Imran meets Saudi King Salman, crown prince to discuss matters of mutual interest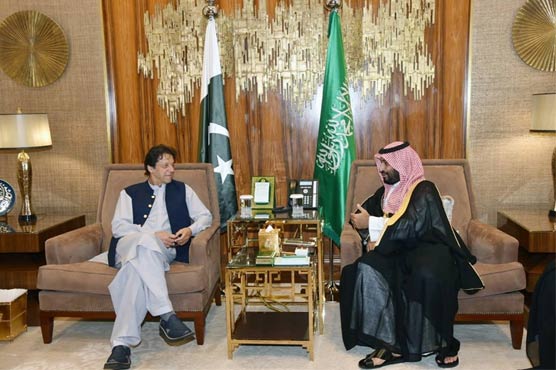 PM Imran and King Salman discussed matters of mutual interest.
RIYADH (Dunya News) - Prime Minister Imran Khan on Tuesday met Saudi King Salman bin Abdulaziz Al Saud and crown prince Muhammad Bin Salman during a one-day visit to in the Kingdom s capital aimed to help ratchet down the tensions between Tehran and Riyadh.
During the meeting, PM Imran and King Salman discussed matters of mutual interest.
Both leaders discussed bilateral relations, regional peace and political situation in the region.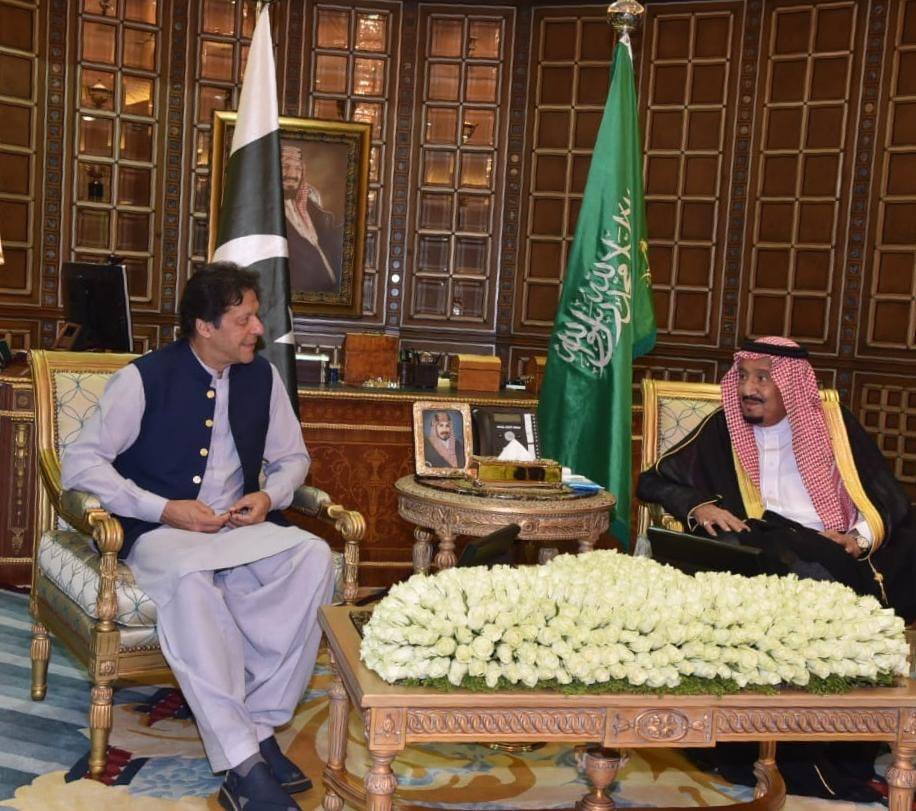 PM Khan emphasized on solution of outstanding disputes through diplomacy and dialogue. PM also apprised Saudi King about recent situation in Occupied Kashmir.
Foreign Minister Shah Mehmood Qureshi, Special Assistant Bokhari and other senior officials also attended the meeting.
Earlier, following his visit to Iran on last Sunday, Prime Minister Imran Khan reached Saudi Arabia as part of his initiative for peace and security in the region.
Governor Riyadh Faisal bin Bandar bin Abdulaziz Al Saud and Minister of State and National Security Advisor Dr Musaad bin Mohammed Al Aiban welcomed the Prime Minister at Royal terminal of the King Khalid Airport Riyadh.
Pakistan Ambassador in Saudi Arabia Raja Ali Ijaz, Saudi officials and other officers of the Pakistan Embassey were also present at the airport to receive the Prime Minister and his delegation.
According to Foreign Office, the Prime Minister will confer with the Saudi leadership in light of his recent consultations with other leaders. Bilateral ties and other regional developments would also form part of the discussions.
Pakistan and Saudi Arabia are bound in a fraternal relationship marked by mutual trust and understanding, close cooperation, and an abiding tradition of supporting each other.
This is Prime Minister Imran Khan's third visit to Saudi Arabia this year. From the Saudi side, Crown Prince Mohammed Bin Salman paid a state visit to Pakistan in February 2019.
According to sources, the premier will hold key meetings with Saudi leadership to devise solutions for reducing crisis between Saudi Arabia and Iran.
Earlier during press conference in Tehran, PM Imran warned, "Any conflict between Iran and Saudi Arabia would cause poverty in the world."
"Pakistan suffered 70,000 casualties in the last 15 years in the war on terror, Afghanistan is still suffering, there is terrible devastation in Syria — we don't want another conflict in this part of the world," he asserted.
Emphasizing that the visits to Tehran and Riyadh were Pakistan's "initiative", Khan said he was also approached by US President Donald Trump to "facilitate some sort of dialogue between Iran and the United States".
Iranian president Hassan Rouhani said, "I told Prime Minster Imran we welcome any gesture by Pakistan for peace in the region and appreciate his visit to our country." He said that the two leaders had discussed the war in Yemen and the sanctions imposed by the United States on Iran among many other issues.
"Regional issues have to be resolved through regional means and dialogue. We also emphasized that any goodwill gesture will be responded with goodwill gesture and good words," said the Iranian president.
Pakistan has strong relations with Saudi Arabia, with more than 2.5 million of its nationals living and working in the kingdom, but it also maintains good relations with Iran and represents Tehran's consular interests in the United States (US).