Last Updated On 10 October,2019 01:08 pm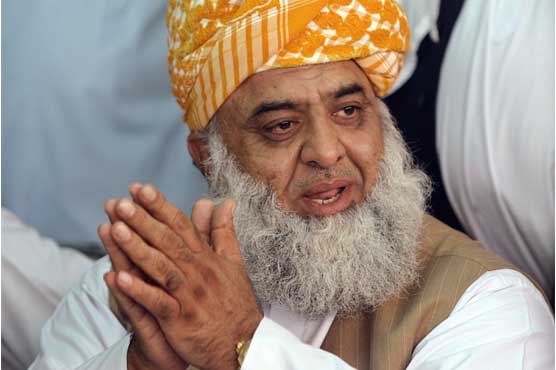 He announced that not a single convoy would enter Islamabad before October 31
ISLAMABAD (Dunya News) – Jamiat Ulema-e-Islam-Fazl chief Maulana Fazlur Rehman on Wednesday said that the convoys of Azadi March will enter Islamabad on October 31.
Talking to media in Islamabad on Wednesday, the convoys from across the country will leave for Islamabad on October 27 and will enter jointly in the federal capital on October 31.
He announced that not a single convoy would enter Islamabad before October 31, adding that the rallies that would be taken out on October 27would only be to express solidarity with the Kashmiris.
---
JUI-F files application for holding Azadi March at D-Chowk

---
Yesterday, Jamiat Ulema-e-Islam-Fazl's (JUI-F) senior politician Maulana Abdul Ghafoor Haideri submitted an application with the chief commissioner of Islamabad, seeking permission for carrying out anti-government protest campaign 'Azadi March' and a possible sit-in at D-Chowk in Islamabad.
In the written application, the opposition party JUI-F has maintained that the party owns the "democratic and constitutional" right of holding protests.
"The JUI-F will be holding the Azadi March on October 27, 2019 at D-Chowk, Islamabad, exercising its democratic and Constitutional right under Articles 16 and 17 of the Constitution against the incumbent government," reads the application.
It further says that under the leadership of JUI-F chief Fazlur Rehman, a large number of party workers will participate in the long march.
The party has further asked the local administration to ensure provision of essential security measures for the demonstrators.
---
Opposition s Rehbar committee

---
A meeting of rehbar committee of opposition parties could not still decide whether to participate in Azadi March or not but the opposition parties have agreed on end of this government, resignation of PM, new elections and free and fair election without intervention by security forces.
The meeting was headed by Akram Durrani, which was attended by prominent leaders of opposition. Duraani after the meeting said no more time would be given to this government. He said Maulana Fazl needed no religious card for his politics. He said PML-N and PPP had agreed on protest and nation would not be deceived by these rulers this time. The opposition leaders said the PM who himself once staged a sit-in should not object to others.
---
Whole country will turn into battlefield

---
On Saturday last week, JUI-F chief Maulana Fazal-ur-Rehman said that the whole country would turn into a battlefield once protests are started against the incumbent government.
The JUI-F chief talked to media in Peshawar and announced that the first destination of Azadi March will be Islamabad. He affirmed that the masses in huge numbers will sweep away the Pakistan-Tehreek-e-Insaf-led government and said he will use plan B and C if need be.
"The country's economy has been destroyed and employment opportunities have been brought to an end. We will become the voice of a common man and Pakistan. "Our demand will be to conduct fresh elections. Business community is already protesting owing to taxes and time has come to send the ineligible and illegitimate government packing.
"We are not afraid of arrests as they will worsen the situation. Former president Asif Ali Zardari is supporting the Azadi March as there is no disappointment from any side.
"Government wants to gain international support by highlighting the madrassah (religious seminaries) issue. "Imran Khan has put Pakistan in trouble by talking about nuclear war. It is a diplomatic failure of Pakistan to indulge in warmongering."