Last Updated On 09 October,2019 09:58 pm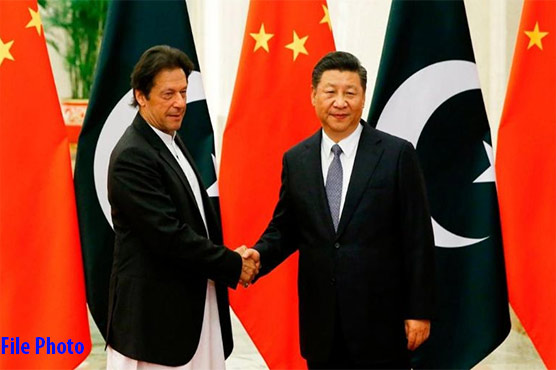 PM Khan affirmed that Pak-China evergreen partnership protects fundamental interests of both states.
BEIJING (Dunya News) – Prime Minister Imran Khan in Beijing on Wednesday held a meeting with Chinese President Xi Jinping to discuss an entire spectrum of bilateral relations, regional situation and matters of mutual interests.
According to a press release issued by Pakistan's Foreign Office (FO), the meeting was followed by a luncheon banquet hosted by President Xi in honour of the PM Khan.
Foreign Minister Shah Mahmood Qureshi, Minister for Planning, Development and Reform Khusro Bakhtiar, Federal Minister for Railways Sheikh Rashid Ahmad, Adviser to the Prime Minister for Commerce, Textile, Industries, Production and Investment Abdul Razzak Dawood, Special Assistant to the Prime Minister on Energy and Chairman Board of Investment Zubair Gillani. Chief of Army Staff (COAS) Gen Qamar Javed Bajwa, DG ISI Lt Gen Faiz Hameed and other officials were also present in the meeting.
According to the PM Office, the premier thanked President Xi and the Chinese government for its principled stance on the Kashmir issue, particularly mentioning Chinese Foreign Minister Wang Yi's stance on the dispute at the 74th session of the United Nations General Assembly (UNGA).
The PM shared his views that China had supported Pakistan in all difficult times.
According to the press release, Prime Minister Imran briefed Xi about the current situation in the country, sharing that Pakistan had recovered from the difficult economic situation.
"We will never forget China's financial cooperation in this regard […] China had helped Pakistan without any conditionality […] Pakistan and China are all-weather friends and strategic cooperative partners," he went on to say.
The premier congratulated the Chinese president on the 70th anniversary of the founding of the People's Republic of China and expressed his gratitude to him for the warm welcome for the Pakistani delegation in Beijing.
President Xi lauded the premier for speaking about Pakistan and China's relations during the UNGA, and mentioned that both countries enjoy close friendly relations and cooperated with each other in different fields.
As per the FO press release, both leaders agreed that a peaceful and stable Afghanistan would promote economic development and connectivity in the region while expressing resolve to continue to support the peace and reconciliation process in Afghanistan.
Sources told the media that both leaders, in particular, discussed the ongoing intense dispute of occupied Kashmir, regional peace and security situation, and economic affairs between the states.
PM Khan affirmed that Pak-China evergreen partnership protects fundamental interests of both countries. The meeting considered the China-Pakistan Economic Corridor (CPEC) as the source of prosperity and economic uplift for Pakistan as bilateral relations between the neighbouring states reach new heights.
Moreover, PM Khan will today attend the closing ceremony of the 2019 Beijing International Horticultural Exhibition as the guest of honour. Chinese Prime Minister Li Keqiang will host the ceremony.
The exhibition that is the world's largest expo of its kind is scheduled to be officially closed on Wednesday after 162 days of showcasing a pastoral landscape of hills, waters and plants.
According to experts, it will have long-lasting international influence on green development and environmental protection.
---
Premier Li reaffirms China's support for Pakistan
---
Yesterday, Pakistani Premier Imran Khan held an important meeting with Chinese Prime Minister Li Keqiang who reiterated China's full support to Pakistan in defending its sovereignty, territorial integrity and legitimate rights, while stating that his country have always regarded its relations with Pakistan with priority in neighbouring diplomacy.
Both leaders met at the Great Hall of the People in Beijing. "China and Pakistan are all-weather strategic cooperative partners," he said.
Mr Li Keqiang said China would continue to actively support Pakistan in its national development, regional and international affairs.
He called for joint efforts to strengthen bilateral ties to a new level as the strategic cooperative partnership between the two countries served both national and regional interests.
Premier Li expressed satisfaction over economic situation in Pakistan and offered assistance.
PM Khan emphasised that expeditious completion of CPEC projects was the foremost priority of his government. Mr Li was apprised of the actions undertaken recently to fast-track CPEC projects and development in Gwadar.
The two sides exchanged views on deepening bilateral trade and explored ways of increasing Pakistan's exports to China.
Both leaders agreed that implementation of the second phase of China-Pakistan Free Trade Agreement (FTA) would lead to trade enhancement, and revelation of economic and investment opportunities.
They also discussed regional security situation, including gross violations of human rights and humanitarian situation in Indian occupied Jammu and Kashmir.
Briefing the media after the meeting, Chinese Vice Foreign Minister Luo Zhaohui said both leaders agreed to further advance the development of their relations, and to step up exchanges and strategic coordination at various levels.
The Chinese vice foreign minister said both states agreed to conduct the ninth meeting of the joint cooperation committee on CPEC next month in Pakistan on agreements on 27 projects for the welfare of the general public.
He said China highly commended Pakistan's unremitting efforts and huge sacrifices that it has made in fighting terrorism and supported Pakistan's effort to conduct anti-terrorism campaign to the very end.
He said two sides exchanged views on relations between Pakistan and India, and situation in Afghanistan and the Gulf.
---
Pakistan, China sign several MoUs
---
Foreign Minister Shah Mahmood Qureshi stated that Pakistan has shared with China its assessment and feedback from Indian occupied Kashmir.
While talking to the media at Diaoyutai State Guest House in Beijing, Mr Qureshi said both sides discussed the Afghan peace process.
He said China, Russia and other countries want peace and reconciliation in Afghanistan and development and prosperity in the entire region. "For this, Pakistan is playing an active role."
The minister said the Chinese leadership has been taken into confidence on all issues.
Regarding facilities to potential Chinese investors and entrepreneurs, he said the CPEC Authority has been established to provide all facilities to businessmen and investors as early as possible.
The FM said a MoU signed between the two countries was related to the development of Gwadar Port and for making it "a hub of regional trade and connectivity."
He said under another MoU, to redress water shortage in Gwadar, a desalination plant of 5000 tons of water per day would be set up by China to provide clean water to Gwadar port and city.
The two states also signed an MoU to enhance cooperation in education and starting 'smart classrooms'.
Another MoU has been penned to support differently-abled persons and provision of wheel chairs for them.
Both states further agreed to take measures for narcotics control, and for the purpose, China will provide necessary equipment to Pakistan.