Last Updated On 01 October,2019 08:34 pm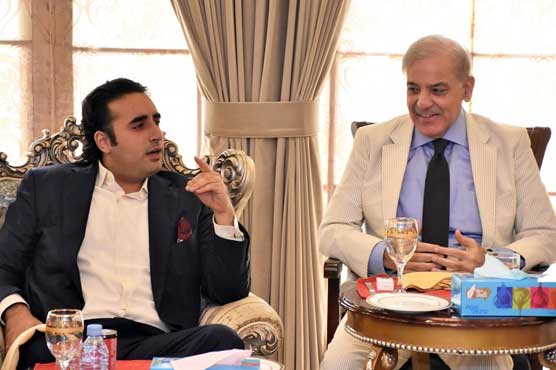 PML-N leader Ahsan Iqbal said it is time to send govt packing for the sake of country, nation.
ISLAMABAD (Dunya News) – Pakistan Peoples' Party (PPP) Chairman Bilawal Bhutto Zardari on Tuesday met Leader of Opposition in National Assembly and Pakistan Muslim League-Nawaz (PML-N) president Shehbaz Sharif and agreed to adopt a joint strategy against government.
Sources said that the country's political situation and anti-government movement came under discussion during the meeting, while Jamiat Ulema-e-Islam-Fazl (JUI-F) chief Maulana Fazlur Rehman's Azadi March was also discussed.
Sources further said that Shehbaz Sharif and Bilawal Bhutto also agreed to summon an All Parties' Conference (APC) soon.
Briefing the media about the meeting, PML-N leader Ahsan Iqbal said that the government has become a threat to the security of Pakistan and the incumbent government shouldn't be compared with the previous government.
"Instead of making changes in the cabinet, there is need to get rid of incompetent bus driver," he said.
The PML-N leader went on to say that independent and transparent elections are the only way to get the country out of the closed street, adding that a joint strategy should be devised along with the JUI-F.
"A delegation of the PML-N will tomorrow (Wednesday) meet JUI-F chief Maulana Fazlur Rehman," he said and added the opposition through unity and solidarity will send the government packing.
Iqbal said that an All Parties Conference (APC) be called to set the action plan for the 'Azadi March'. He accused the government of playing with the fate and future of Pakistan.
The PML-N leader said: "The incumbent government has left Pakistan alone globally, the farmer is suffering, industry has ruined and unemployment is increasing continuously." "It has become necessary to send the Pakistan Tehreek-e-Insaf (PTI) government packing for the sake of the country and nation."
Speaking on the occasion, PPP leader Sherry Rehman said that it has become indispensable to overthrow government, adding that whatever action we want to take, must be taken unanimously.
She said that the PPP seeks to persuade JUI-F chief Maulana Fazlur Rehman to work together with them, adding that there are no gaps from her party.
The prime minister had not taken the House in confidence over Pulwama and Balakot issue, adding that PM Imran Khan should take the House in confidence over his US visit.