PM Khan alarms UNGA about possibility of India-Pakistan nuclear conflict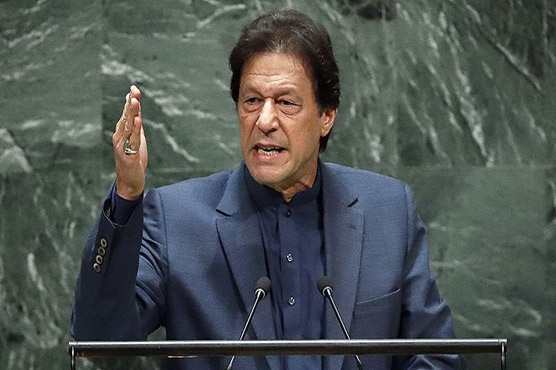 Prime Minister Imran Khan addressed the 74th United Nations General Assembly session.
NEW YORK (Dunya News) – Prime Minister Imran Khan while addressing the UN General Assembly on Friday said that anything could happen if a conventional war starts between the Indian and Pakistan but supposing a country seven times smaller than its neighbor is faced with the choice: either you surrender, or you fight for your freedom till death?
Addressing the United Nations General Assembly, he said, "What will we do? I ask myself these questions. We will fight... and when a nuclear-armed country fights to the end, it will have consequences far beyond the borders."
---
Kashmir Issue
---
Regarding Kashmir issue, the premier said 900,000 India troops put 8 million Kashmiris under siege after India illegally revoked special status of occupied Kashmir by going against 11 UN resolutions on August 05. "India misconstrued our peace gesture of returning pilot," Imran Khans said.
PM Imran Khan told the United Nations General Assembly that India is planning a "bloodbath" in Kashmir, adding that the Indian-occupied Kashmir has been under lockdown since New Delhi scrapped its semi-autonomous status in early August, and Khan said armed forces there would turn on the population after the curfew was lifted.
"There are 900,000 troops there, they haven t come to, as Narendra Modi says -- for the prosperity of Kashmir... These 900,000 troops, what are they going to do? When they come out? There will be a bloodbath," he said.
He added that there could be a repeat of the fighting between the nuclear-armed neighbors seen in February if India blamed Pakistan for any home-grown militant attacks in response to the repression in the Muslim-majority territory.
The prime minister said: "Pakistan has lost 70 thousand lives in war against terrorism, adding that we do not want war.
Voicing serious concerns over the situation in occupied valley, the Prime Minister said women, children and sick people are locked and being treated as worse than animals. He said it is sheer arrogance that has blinded Narendra Modi. He said Modi is not cognizant of the situation when curfew is lifted. He said Kashmiris will come out of their houses in protest and the 900,000 Indian troops in the held territory will shoot them, leading to a bloodbath.
PM Imran asked if PM Modi has thought what would happen when the curfew in Kashmir is lifted and if he think people in Kashmir would accept that you [India] have withdrawn the special status, adding that thousands of children in Kashmir have been put under detention. "They, too, will come out on the streets after the curfew in the state is lifted and the Army will shoot them. Today also we hear about pellet guns being used by the Indian Army. But whatever happens in Kashmir after the curfew is lifted, there will be another terror attack like Pulwama and Pakistan will be blamed," Imran Khan added.
He said that "PM Modi's whole life is RSS which is inspired by Adolf Hitler, Benito Mussolini", adding that RSS believes in the ethnic cleansing of Muslims. RSS goons butchered hundreds of Muslims. This is arrogance. This makes people do cruel things. Something PM Modi has done. Arrogance has blinded PM Modi," he said.
Imran Khan said: "When I came to power, my priority was Pakistan would be a country which would try to bring peace. The Mujahideen groups, which were trained by Pakistan and funded by US, were called terrorist groups by the Soviet. Come 9/11, Pakistan joined the war against terrorism. Now that we joined the US which occupied Afghanistan, these groups turned against us. 70,000 Pakistanis died in this war. When we came to power, we would dismantle what was left of these groups. I know India keeps accusing us that there are military groups but there are not. The United Nations officials came come and check themselves."
He further added, "When Pulwama happened, India immediately blamed us. We asked them for proof but they instead they sent their aircraft. PM Modi s election campaign was also based on a lie. During elections, PM Modi campaigned saying "I have taught Pakistan a lesson" was a lie."
The prime minister further added that he opposed the war because in the 1980s we joined the struggle against the Soviets funded by western countries, adding that the mujahideen were trained by the Pakistan Army and they waged the freedom struggle. The soviets called them terrorists and we called them freedom fighters.
"In 1989 soviets retreated; the Americans packed up and left. Here we had indoctrinated them in jihad against foreign occupation and now that th US had taken over, we were supposed to tell them it s no longer jihad.
---
Islamophobia
---
Regarding Islamophobia, Imran Khan said that there are 1.3 billion Muslims in entire world and the Islamophobia has grown at horrific pace after 9/11 after certain world leaders equated terrorism with Islam. "Terrorism has nothing to do with any religion," he said.
"Muslim women wearing Hijab has become an issue in some countries. It started after the 9/11 [attacks]."
"Imran Khan said that after 9/11 attack, Islamophobia grew at an alarming rate. Why did it start? Because certain western leaders equated terrorism with Islam, calling it Islamic terrorism and radical Islam. What is radical Islam? There is only one Islam," Imran Khan said.
Imran Khan asked how does one distinguish between a moderate Muslim and radical Muslim saying further that terrorism has no religion.
"This Islamic radicalism has been the main reason behind Islamophobia. This has caused pain to Muslims," Imran Khan said.
He said that marginalisation of Muslims in European countries is leading to radicalisation making people end up as militants in Syria and other nations.
"No religion preaches radicalism. The basis of all religions is compassion and justice," Imran Khan said.
"The prime minister said that before 9/11 majority of suicide attacks in the world were carried out by Tamil Tigers who were Hindus. No one blamed Hinduism. And it s quite right. What has Hinduism got to do with what desperate people were doing in Sri Lanka?" Imran Khan asked.
He further added that there is a misunderstanding in the West regarding Islam which is causing Islamophobia in the world.
"Muslim leaders didn t explain to the world after 9/11 that Islam is not radical. Terrorism has nothing to do with religion," the prime minister said.
Imran Khan said no one did research that majority of suicide attacks were committed by Tamil Tigers that were Hindus, but no one blamed the Hinduism for that.
Referring to the state of Madina that was established by Prophet Muhammad (PBUH) as his role model, the Prime Minister said the state ensured welfare of all segments of the society.
Imran Khan said Prophet Muhammad (PBUH) lives in our hearts. We Muslims believe that pain of heart is much more than physical pain.
---
Corruption and Money Laundering
---
The prime minister said another global problem is siphoning of money from developing world by the corrupt elite and reaching to advanced countries. This causes more poverty, debt and destruction in developing countries.
He said money laundering is not treated the same as money of drugs or terror financing. Imran Khan went on to say that poor countries being plundered by their corrupt elite, adding that the corrupt elite of poor countries buying properties abroad. He asked why tax havens are allowed in some countries.
Imran Khan said when he assumed power last year, we found that the country s total debt increased by four times during the last ten years. He said half of the total revenue collected in Pakistan in one year went to debt servicing negatively impacting human development. He said that plundered money could be spent on welfare of human beings.
He said when we tried to retrieve the money stashed abroad, we faced a lot of legal and other challenges. He questioned the rationale of the presence of tax havens and offshore companies in this day and age. The Prime Minister urged the developed world to build wall against the economic refugees.
---
Climate change

---
The PM urged the United Nations to take the lead in countering the challenge posed by climate change. He regretted there is lack of seriousness and perhaps world leaders do not realize the urgency of the situation. He said that we need to take important steps to address climate challenges.
Imran Khan said that this issue is not of a single country but should be dealt with collectively, adding that Pakistan is among the top 10 nations in the world, which are most affected by climate change.
"We don't realize the urgency of the situation. We have so many ideas but ideas without funding are mere hallucinations," the PM said.
He said Pakistan is amongst the top ten nations most affected by climate change. He said we depend on our rivers. He said Pakistan is mainly agrarian country and most of its water comes from the glaciers, which are melting at a rapid pace. He warned if this keeps going and if nothing is done, humans will face a huge catastrophe.
Imran Khan said our previous government in Khyber Pakhtunkhwa planted one billion trees and now we have set a target of ten billion trees to counter the effects of global warming. He, however, stressed this has to be a combined effort of the world. He said there must be more emphasis on this issue and the richer countries should be pushed to meet the challenge.
---
Watch PM Imran Khan s address to UN General Assembly
---
On Thursday, in his meeting with editors of The New York Times, while warning of dangerous situation in Indian-occupied Kashmir, he said that there is a danger of bloodbath in the Indian Occupied Kashmir, the moment the curfew is lifted and the world must act to avert that.
He said, "This is very dangerous because people don't realise where it's headed. It's going to be a massacre, the moment they lift the curfew."
The prime minister said that he would appeal to the United Nations for help as India's military clampdown in occupied Kashmir enters its seventh week.
"They do not understand that this can go horribly wrong," PM Imran said and asked who is going to speak about it, if the UN doesn't speak about it.
The prime minister said he would ask the United Nations to step in, warning that it was too risky to allow tensions to escalate between India and Pakistan, both of which have nuclear weapons.
Imran Khan said that India was behaving irrationally — and against its own longer-term interests. "Arrogance," he said, "stops people from being rational."
Earlier speaking to the editorial board of Wall Street Journal in New York, PM Imran Khan said Pakistan wanted to lift its people out of poverty and focus on building a peaceful neighbourhood but the RSS-backed Modi government is following an agenda rooted in racial supremacy.
He said racism is often rooted in arrogance and arrogance can lead people to make huge blunders, that's what Modi has done in occupied Kashmir.
Imran Khan said India's repressive and illegal actions in occupied Kashmir would not only have repercussions for the region but for the entire Muslim world. The world doesn't realise that we are heading for a big disaster.
About Afghan peace talks, the prime minister said the world should not fear that a peace deal in Afghanistan would take us back to 2001. Peace is the most important goal and we should all pursue it.
He called for resumption of Afghan peace talks between the United States and the Taliban.
Meanwhile, the prime minister briefed Executive Director of Human Rights Watch Kenneth Roth about grave human rights violations being committed by Indian Occupation forces in held Kashmir, who called on Prime Minister Imran Khan on the sidelines of 74th meeting of United Nations General Assembly session.
He said the worst-ever human tragedy is feared in Indian-held Kashmir as India is trying to change the demography of the region. He said more than 15,000 youth have been taken into custody by Indian Forces illegally.
He urged international human rights organizations to put pressure on India to allow its observers to enter into Kashmir.
The Prime Minister said that he is visiting the USA as Ambassador of Kashmiris and he will present the Kashmir Case before the world effectively.