Vision behind making of Pakistan was to establish a welfare state: PM Imran Khan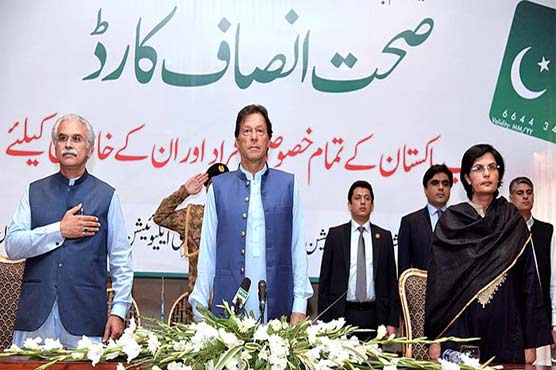 The rules of Madina State would be taught in universities: PM
ISLAMABAD (Dunya News) – Prime Minister Imran Khan said Pakistan was established under a specific vision but we left that vision. He said we have to come back to same vision our ancestors have imagined. He said the vision behind making of Pakistan was to make it a welfare state like sate of Madina.
Addressing a ceremony in connection with launching of Sehat Sahulat Programme for Special Persons, he said the rules of Madina State would be taught in universities. He said Pakistan would be made a welfare state where justice and kindness prevails.
He said the vision of this government is to raise our poor class. He said it is the responsibility of the state to care for poor, adding that Ehsas Program was started after due deliberation.
PM Imran Khan said people should follow life of Holy Prophet (PBUH) instead of Steve jobs and Bill Gates. He said our ancestors followed the teachings of Holy prophet (PBUH) and ruled the world for centuries.
He said government is collecting data of poor of the country and all departments would work together for welfare of poor of this country. He said government aims for helping poor through health Insurance scheme.
Imran Khan said Sehat Sahulat and Ehsaas programmes are part of the vision to help vulnerable and weaker segments of society. The Prime Minister said Sehat Insaaf Cards will be beneficial to poor people to avail the health facilities free of charge.
Imran Khan said up to Rs0.7020 million can be used through health insurance card for treatment. He said the facility can be used at private hospitals too.
He said a meeting is arranged every week to discuss how the government can help lifting its poor class.
Special Assistant to Prime Minister on Health Dr. Zafar Mirza in his address said Sehat Sahulat Progamme is already being provided to poor people in 48 districts.
The government pays a premium up to the amount of 720,000 rupees if a person falls ill and receives treatment at a medical facility.
He said Sehat Insaaf Card will also be available to any person in Pakistan living with disability.
Special Assistant to the Prime Minister on Social Protection and Poverty Alleviation Dr. Sania Nishtar informed the participants that under Ehsaas program, a two percent quota for special persons in government jobs and one percent quota in official accommodations has been reserved.
Ministry of Human Rights is going through a legislation to provide legal assistance to special persons.
She said Prime Minister yesterday approved five more steps under the Ehsaas program, that include ensuring social protection of 10 million families in the next four years, provision of employment of 3.8 million people, distribution of Sehat Insaaf Cards among 10 million people in the next four years, giving stipends to five hundred thousand students, and ensuring saving bank accounts, mobile phones, stipends and creation of 500 digital hubs for six million women across the districts in Pakistan.
On the occasion, Prime Minister also distributed Sehat Insaaf Cards among special persons.