U.N. Security Council likely to discuss Kashmir dispute on Friday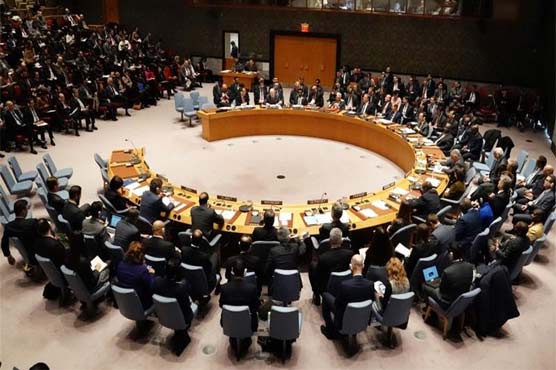 Indian Central Reserve Police Force (CRPF) personnel patrol a street in downtown Srinagar.
UNITED NATIONS (Dunya News) – The United Nations Security Council (UNSC) on Friday (August 16) in New York is likely to meet over India's moves in occupied Kashmir following a formal request by Foreign minister Shah Mahmood Qureshi in a letter to UNSC President Joanna Wronecka under the agenda item 'India-Pakistan question'.
The session is being considered as a big success for Kashmir and Pakistan as the debate is happening after decades.
Pakistan on Tuesday had called on the U.N Security Council to convene an urgent meeting on India's decision to revoke autonomy for the disputed Muslim-majority state of Kashmir, a move it says could spark a new conflict between the two South Asian nuclear powers.
In a statement issued on Tuesday, Qureshi said he had written a letter to the UNSC president, asking the latter to convene an emergency meeting of the council to discuss India's "illegal actions" that also "violate UN resolutions on Kashmir".
India's recent actions "pose a threat to international peace and security, willfully undermine the internationally recognized disputed status of Jammu & Kashmir," and violate the human rights of the Kashmiri people, Foreign Minister Shah Mehmood Qureshi wrote in the letter.
There is a "clear and present danger" that India will provoke a conflict with Pakistan to divert attention from its recent actions, Qureshi said. "Pakistan will not provoke a conflict, but India should not mistake our restraint for weakness," the letter read.
"If India chooses to resort again to the use of force, Pakistan will be obliged to respond, in self defence, with all its capabilities," he claimed, adding that "in view of the dangerous implications" Pakistan requested the UN Security Council meeting.
Prime Minister Imran Khan said world's silence on developments in occupied valley akin to appeasing Hitler.
Pakistan has drawn the attention of the United Nations Security Council presidency to the grave threat to peace and security in South Asia after India annexed occupied Kashmir and called for summoning an emergency meeting of the council to discuss the rapidly aggravating situation.
Mr Qureshi had also called his Polish counterpart Jacek Czaputowicz to discuss the request for convening the UNSC session on Kashmir.
The Polish foreign minister had said a dispute between countries could only be resolved through dialogue, as also called for by the European Union. He had stressed that, as a rotating chair of the UNSC, Poland would closely monitor developments in the region and maintain regular contact with the partners.
There are 11 UN resolutions on Kashmir, with three specifically pertaining to the status of the occupied region.
Qureshi had said Pakistan believed that India's unilateral action of revoking the autonomous status of Kashmir not only threatened regional [peace], but also the world peace.
The foreign minister had last week visited Beijing to consult the Chinese leadership on Pakistan's plan to take the issue to the Security Council.
Chinese Minister Wang Yi had assured Qureshi of full support on the move.