Experts view Trump's offer on Kashmir as significant progress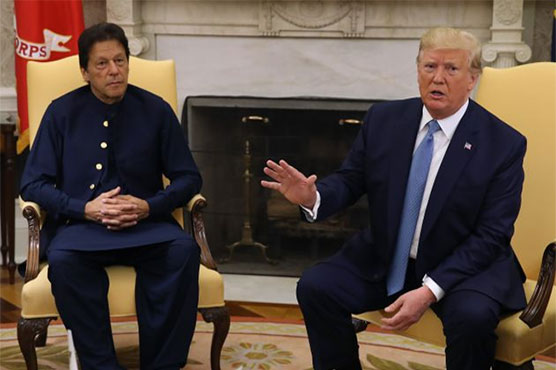 Experts said Trump's offer as a mediator strengthened Pakistan's stance on Kashmir issue.
WASHINGTON DC (Dunya News) – Prime Minister Imran Khan's official visit to the United States of America proved as significant progress on the Kashmir issue between India and Pakistan as President Donald Trump offered to play the role of a mediator while recognizing Kashmir as a disputed territory.
Experts expressed that US President's offer to mediate in Pak-India dialogue has strengthened Pakistan's stance on Kashmir issue. The United Nation (UN) reports on barbarianism in Indian-occupied Kashmir also helped US institutions in their decision. India got infuriated over Trump's offer and US support to Pakistan.
Analysts asserted that Pakistan and the US need each other right now as US seeks a respectable way to end the war in Afghanistan while Pakistan wants an end to the ongoing Indian atrocities in Kashmir.
Experts opined that India should take full advantage of this offer and end the 70-year long dispute between both nuclear states for once and all.
Earlier today, President Donald Trump hailed Pakistan's help in advancing peace talks in Afghanistan, in a marked shift in tone as the United States seeks an accord with the Taliban to end almost 18 years of war.
"I think Pakistan is going to help us out to extricate ourselves," Trump said, with PM Khan sitting next to him at the White House meeting.