Last Updated On 20 July,2019 11:36 pm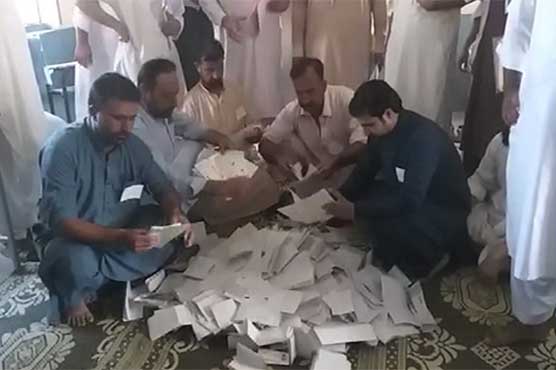 Ruling Pakistan Tehreek-e-Insaf (PTI) stands second according to unverified results.
PESHAWAR (Dunya News) – Polling for election on sixteen seats of Khyber Pakhtunkhwa Assembly in tribal districts has ended and unofficial results have started pouring in which show that independent candidates are ahead of others in the elections of merged tribal areas. Ruling Pakistan Tehreek-e-Insaf (PTI) stands second according to unverified results.
This is the first occasion in the history of the country that polling was held for election of Khyber Pakhtunkhwa Assembly in tribal areas.
Details of Constituencies:

According to the Election Commission of Pakistan (ECP), a total of 285 candidates, including two women, are competing for the 16 provincial assembly seats. Eighty-three candidates are contesting election from the platform of different political parties while others are independent candidates.
16 candidates belong to the ruling Pakistan Tehreek-e-Insaf (PTI), 15 from Jamiat-e-Ulema Islam (F), 14 from Awami National Party (ANP), 13 from Jamaat-e-Islami and 5 candidates are from Pakistan Muslim League Nawaz (PMLN).

According to the Provincial Election Commission Khyber Pakhtunkhwa, the polling was held in a peaceful and transparent manner. Tight security measures were taken for maintaining peaceful atmosphere on the occasion of polling.
One thousand eight hundred and ninety-five polling stations were established for the election.
The former Federally Administered Tribal Areas (FATA), a mountainous cluster of seven districts and six towns along the Afghan border that resisted efforts at outside control for hundreds of years, were merged into the province of Khyber Pakhtunkhwa last May.
The result of the vote for the provincial assembly is unlikely to have much direct impact on national politics or Prime Minister Imran Khan's government in Islamabad.
But the election marks a significant milestone for a region that has been a byword for unrest since before the days of the British rulers of India, who generally left tribal elders to administer their own justice in a system that continued after Pakistan gained its independence in 1947.