Full text of ICJ judgement in Kulbhushan Jadhav case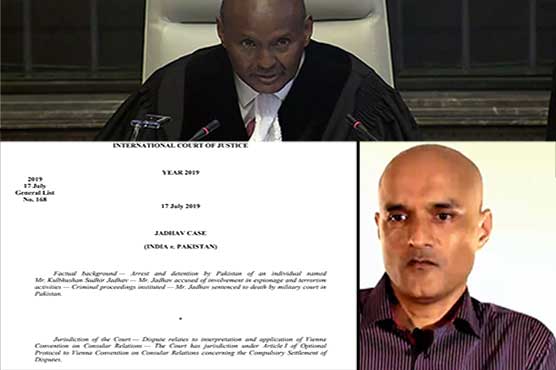 Copy of International Court of Justice (ICJ) verdict in Kulbhushan Jadhav case.
(Web Desk) - The International Court of Justice (ICJ) on Wednesday rejected India's plea to acquit and return Indian spy Kulbhushan Jadhav.
According to a document on the court's website, the international court also ordered that Jadhav be allowed consular access and Pakistan should take effective review and reconsideration of the conviction and sentence.
READ FULL TEXT OF ICJ VERDICT BELOW:

After his arrest in March 2016, Jadhav had admitted working for the Indian Research and Analysis Wing (RAW) in Balochistan, a province bordering Afghanistan, where Islamabad has long accused India of supporting terrorists.
In February Pakistan's attorney general told the ICJ that Jadhav's "unlawful activities were directed at creating anarchy in Pakistan and particularly targeted the China-Pakistan corridor."
The ICJ had already intervened previously in the case, issuing an urgent order in 2017 telling Pakistan to stay Jadhav's execution while it dealt with the issue in more detail.
"Pakistan, as a responsible member of the International community, upheld its commitment from the very beginning of the case by appearing before the honourable court for the provisional measures hearing despite a very short notice. Having heard the judgment, Pakistan will now proceed as per law," the Foreign Office stated in a press release after the ICJ announced verdict.
Islamabad reiterated that Indian Naval Commander Kulbhushan Jadhav entered Pakistan without a visa on authentic Indian Passport with a fake alias Hussain Mubarak Patel.Commander Kulbhushan Jadhav is responsible for acts of sabotage, espionage and multiple terrorist incidents in which scores of innocent Pakistani citizens were killed resulting into umpteen women being widowed and numerous children becoming orphans.
Commander Kulbhushan Jadhav has confessed all these acts during his trial in Pakistani court in front of a Judicial Magistrate. This is a clear case of Indian state terrorism.