Last Updated On 04 July,2019 12:11 pm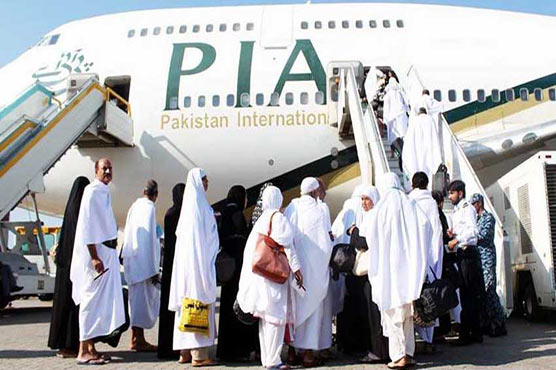 The Pakistan International Airlines is also starting direct Hajj flights from Quetta this year.
LAHORE (Dunya News) – The pre-Hajj operation has begun on Thursday morning and the first flight departed from Lahore to Madina Munawara at 4.45am with 216 pilgrims.
Provincial Minister for Religious Affairs Syed Saeed-ul-Hassan said the government has carried out excellent arrangement for the pilgrims.
Meanwhile, another Hajj flight will take off from Islamabad International Airport today.
Minister for Religious Affairs Pir Noor-ul Haq Qadri and Minister for Aviation Ghulam Sarwar Khan will see off the intending pilgrims at the airport.
According to Spokesperson for Religious Affairs Ministry, pre-Hajj flight operation in Karachi and Peshawar will commence from Friday.
The Pakistan International Airlines (PIA) is also initiating direct Hajj flights from Quetta this year. The post-Hajj flight operation will take place from August 17 to September 14 this year.
---
PM Imran Khan to inaugurate 'Road to Makkah' project
---
Prime Minister (PM) Imran Khan on Friday will inaugurate the 'Road to Makkah' project at the Islamabad International Airport for facilitating intending pilgrims in completing their immigration and other formalities.
According to Ministry of Religious Affairs Spokesperson Imran Siddiqui, Saudi officials have setup special counters at Islamabad airport to clear immigration process of pilgrims in Pakistan.
He clarified that the project will be equally beneficial for intending pilgrims either leaving for Madina or Jeddah airports.
The spokesperson termed the project as "a gift from Saudi Arabia to Pakistani intending pilgrims" and said 21,000 pilgrims will avail benefit from this initiative.