Last Updated On 01 July,2019 09:49 am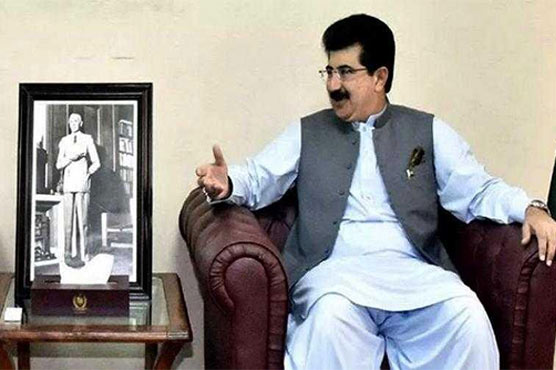 They assured Sanjrani of their complete support over issue of removing him from his post.
QUETTA (Dunya News) – The members of government and its allied parties on Sunday stood firm in support of Sadiq Sanjrani over the issue of dethroning the Senate chairman.
Balochistan Chief Minister Jaam Kamal, Balochistan National Party (BNP) Senators and federal ministers including Federal Minister for Parliamentary Affairs Azam Swati and Minister for Defence Production Zubaida Jalal reached Sadiq Sanjrani's residence and met him.
During the meeting, they assured him of their complete support over issue of removing him from his post.
Speaking on the occasion, the members of government's allied parties said that they would support Sanjrani over possible no confidence motion against him.
On July 26, the opposition parties had reached a consensus to oust Senate Chairman Sadiq Sanjrani through a no-confidence motion in the Upper House of parliament.
According to an official statement on the decisions agreed upon by all the attendees of the all-parties conference in Islamabad, "The opposition had decided to replace Senate Chairman Sadiq Sanjrani through lawful and constitutional means. A rehbar committee to be set up to ensure action on the points agreed upon in the meeting will also provide recommendations for possible replacements for Sanjrani."
The committee having representation of all opposition parties would sort out their mutual differences and ensure implementation of the APC decisions, JUI-F chief Maulana Fazl-ur-Rehman said.
Earlier on Friday, a delegation comprising representatives of Pakistan Tehreek-e-Insaf (PTI) and coalition parties met Senate Chairman Sadiq Sanjrani, two days following the announcement of opposition parties to constitutionally remove him from the post.
Talking to media, Federal Minister for Inter-Provincial Coordination Dr Fehmida Mirza said they held the meeting with the Senate chairman in order to "strengthen his hands [and] for solidarity".
Mirza said the government and allied parties' members believe that Sanjrani was managing the Senate "in a totally neutral and impartial manner which is the role of a chairman Senate or speaker".