Faryal Talpur says not afraid of fake cases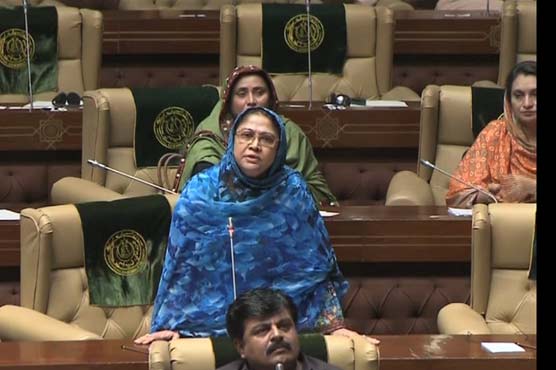 PPP provincial ministers welcomed her upon her arrival in the assembly.
KARACHI (Dunya News) – Pakistan Peoples Party (PPP) Member of the Provincial Assembly (MPA) of Sindh Faryal Talpur, who is under the custody of the National Accountability Bureau (NAB), attended the Sindh Assembly session after issuance of her production orders by the speaker.She said fake cases and wrong allegations cannot harm him and she will face the situation bravely.
Upon her arrival in the assembly, PPP provincial ministers welcomed her upon by thumping the desks.
In her address in the provincial assembly, Talpur said she was innocent, and therefore her conscience was satisfied.
"I know all of this is fake and false allegations were made against us… Benazir Bhutto had also faced hardships and now my husband and brother have been put behind the bars," she said.
"I, as a Pakistani woman, in particular as a Sindhi woman, say that I am not afraid…I am a woman, so someone could say that I am terrified," she said, while urging 'women of the opposition' to look after what has been happening to her.
At the time of her speech, many PPP female leaders were present in the gallery of the assembly and members of the provincial assembly actively attended the session.
Besides, PPP senior leader Sharjeel Memon also arrived in the House following his release from the jail after obtaining bail from the Sindh High Court (SHC) in a corruption case.
Talpur, the sister of former president Asif Ali Zardari, was arrested from F-8 area of Islamabad by the NAB Rawalpindi for interrogating her in the mega money laundering through fake bank accounts case.
However, the accountability watchdog has kept her under house arrest, while the chairman of the NAB has declared it a sub-jail.