NAB files reference against Agha Siraj Durrani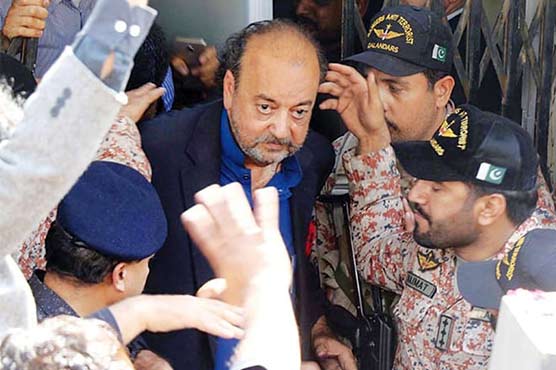 The court remarked that Durrani's bail plea would be heard after filing of the reference.
KARACHI (Dunya News) – The National Accountability Bureau (NAB) on Thursday in an accountability court in Karachi filed a reference against Sindh Assembly Speaker Agha Siraj Durrani in a case pertaining to allegedly accumulating assets beyond known sources of income.
The reference has nominated 20 accused persons, including Durrani's wife, son, four daughters, brother and a servant.
According to the reference, the suspect had accumulated assets beyond known sources of income worth Rs1.61 billion and sold a few of the properties as well.
The reference further states that Durrani has been found in possession of 35 cars and a property worth millions of rupees, and 350 tola of gold was recovered from his locker. The value of cars in their possession is estimated at Rs110 million.
Moreover, the reference points out that the suspect had declared Rs110 million as his income from the year 2007 to 2018; however during investigation he admitted of Rs80 million income.
The NAB has also alleged that the suspect purchased various properties in his son and daughters' name with the ill-gotten money in Karachi and Abbottabad, and the payments of these properties were made by his servant.
Yesterday, the Sindh High Court (SHC) directed the NAB to file the reference by May 30. Meanwhile, the court has adjourned the hearing till June 17.
Chief Justice Ahmed Ali Shaikh remarked that Durrani's bail plea would be heard after filing of the reference.
Durrani was also being investigated for allegedly making illegal appointments, and the embezzlement of public funds.
The speaker was arrested on Feb 20 from a hotel in Islamabad and was brought to Karachi the same night. On Feb 21, he was produced before the accountability court that sent him on a 14-day physical remand.
On Mar 11, the court extended his physical remand till Mar 21 as the NAB prosecutor pleaded with the court for more time for investigation.
The court was told that his property valued at Rs27 million had been found in Abbottabad but he disclosed its value at around Rs4m.
The officer also told that his bungalow worth Rs40m was found in DHA and 10 luxury watches were also recovered in his bank locker in addition to gold, foreign currency and other valuables.