President Alvi meets PPP leaders at his chamber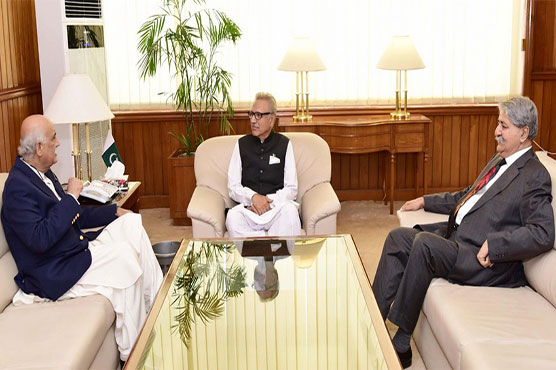 PPP leaders Khurshid Shah and Naveed Qamar called on President Dr Arif Alvi on Wednesday.
ISLAMABAD (Dunya News) – Pakistan People's Party leaders Syed Khurshid Shah and Syed Naveed Qamar called on President Dr Arif Alvi at his Parliament House chamber on Wednesday, Dunya News reported.
According to sources, they discussed the need to maintain environment of understanding between government and opposition benches in the National Assembly.
Sources further informed that issues related to legislation in the National Assembly also came under discussion during the meeting. They also discussed progress on ongoing development projects in Karachi.
Speaking to media after the meeting, Syed Khurshid Shah said that President Alvi had telephoned him and expressed his desire of a meeting. He further said that overall situation in the country and issues related to Parliament were discussed in the meeting.