Last Updated On 08 May,2019 10:53 am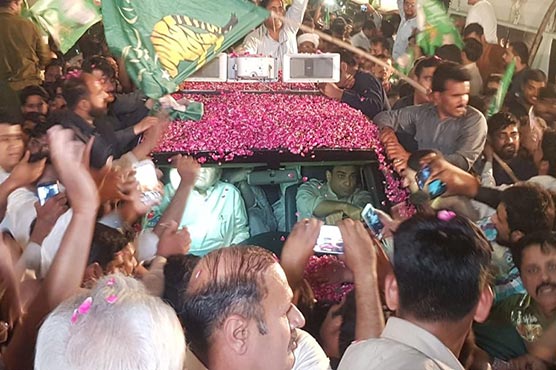 Sharif was accompanied by his daughter Maryam, nephew Hamza and other party leaders and workers.
LAHORE (Dunya News) - Former prime minister and Pakistan Muslim League-Nawaz (PML-N) supremo Nawaz Sharif reached Kot Lakhpat Jail after expiry of six-week bail in a corruption case in the wee hours of Wednesday.
Earlier, Nawaz Sharif had left Jati Umra for Kot Lakhpat Jail after Iftar on Tuesday evening in a rally of his party workers and leaders. He was accompanied by his daughter and party leader Maryam Nawaz, Hamza Shahbaz, Shahid Khaqan Abbasi, Khawaja Asif, Pervaiz Malik, Javed Hashmi and others.
Sharif arrived at the prison in a rally led by his daughter and PML-N leader Maryam Nawaz in the wee hours of Wednesday. The rally took over four hours to reach Kot Lakhpat Jail from Jati Umra. Maryam Nawaz led the "solidarity march" of party workers from the Sharif s residence in Jati Umra to the jail. A large number of party leaders and workers have gathered at various points across the city and will join the solidarity rally.
— PML(N) (@pmln_org) May 7, 2019
Flexes and banners were erected across the city to show solidarity with the PML-N supremo and the PML-N leadership had directed the party workers to gather at the Shanghai Flyover near Ferozpur Road for the solidarity rally.
Kot Lakhpat jail officials had reached Jati Umra to arrest former prime minister and Pakistan Muslim League-Nawaz (PML-N) supremo Nawaz Sharif.
Sharif was released from jail on March 27 on medical grounds after the apex court suspended his sentence in the Al-Azizia reference and granted him bail for six weeks.
---
Jail officials reach Jati Umra
---
Earlier, Jail officials had reached Jati Umra to arrest former prime minister and Pakistan Muslim League-Nawaz (PML-N) supremo Nawaz Sharif following the expiry of his six-week bail in a corruption case.
PML-N spokeswoman Marriyum Aurangzeb while reacting to the arrival of jail officials for Sharif's arrest said that this reflects height of Prime Minister Imran Khan's confusion and narrow mindedness.
She said that the PML-N supremo was himself returning to the jail but even then the prime minister sent police to arrest Sharif. How do a selected PM know the love of masses, she asked.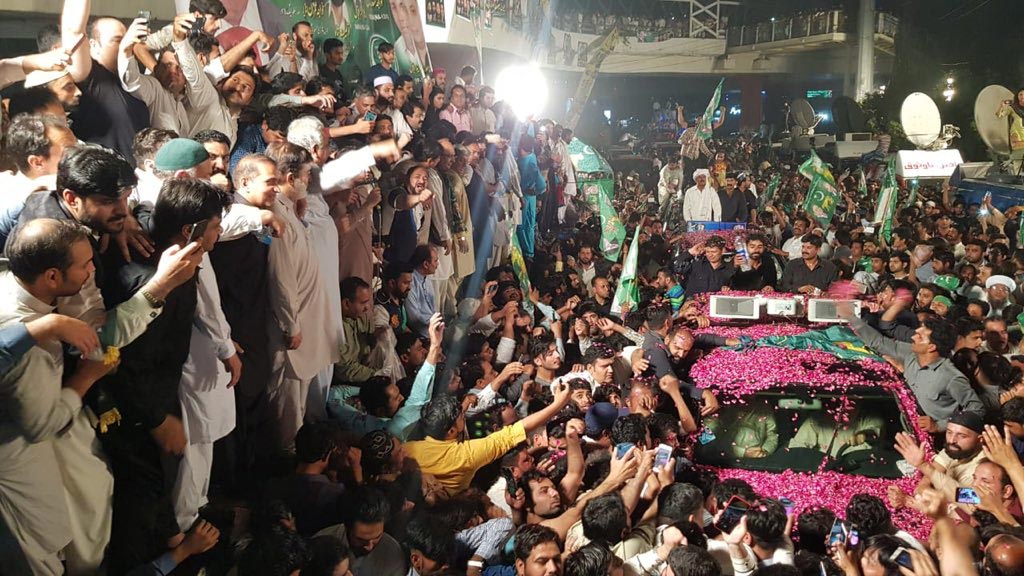 On the occasion, former defence minister and party leader Khawaja Asif said that it doesn't matter if the jail officials arrive to arrest Sharif, we will reach Kot Lakhpat jail as planned, adding that the former prime minister can return to jail till midnight.
He said that PM Imran Khan is on the path to destruction, adding that the PML-N was still stands by its slogan of "Respect for Vote".
Meanwhile, Javed Hashmi said that those who brought Imran Khan into power were also suffering, while Shahid Khaqan Abbasi said that the government has failed, adding that it must go home before the masses throw them.
PML-N leader Pervaiz Rasheed said that the people of Pakistan are with Nawaz Sharif, adding that the government is afraid of an ailing prisoner.
---
Lahore police refuses to provide security

---
Earlier, Lahore police on Tuesday while expressing concern over Pakistan Muslim League-Nawaz (PML-N) rally from Jati Umra to jail said that Nawaz Sharif should be taken to the jail before sun set.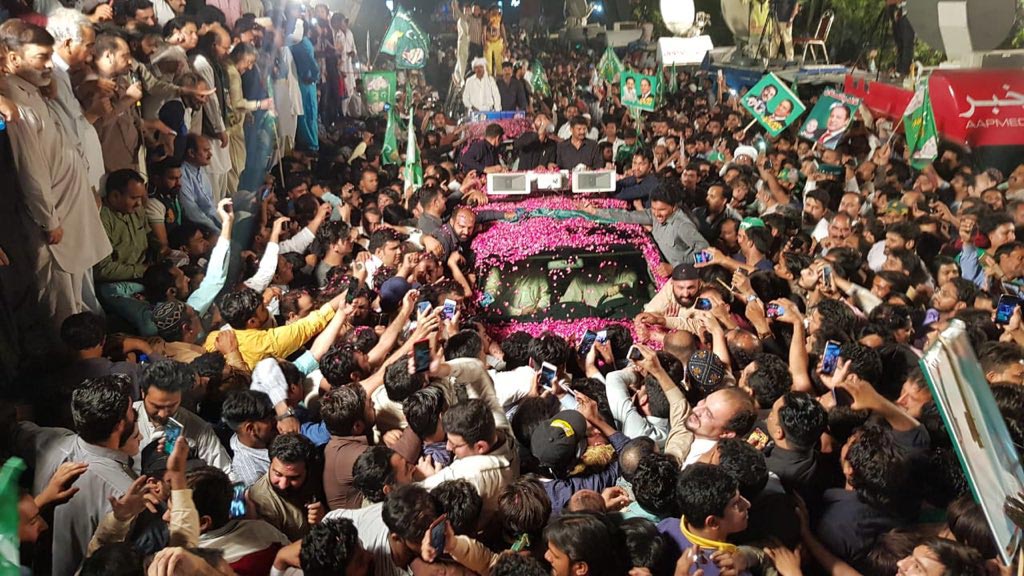 Sharif will surrender to the jail authorities after Iftar and the PML-N has planned to take him to the jail in form of a rally.
---
Rana Sanaullah demands security

---
On the other hand, Pakistan Muslim League- Nawaz member Rana Sanaullah said that former premier Nawaz Sharif had been getting pushed to jail without any reason. There is a lot of pressure from the workers on this sorrowful and sad occasion.
He demanded Lahore Police to provide security to Nawaz Sharif and showed solidarity by taking full responsibility in case of any harm.
Addressing to a press conference in Lahore, he threatened that if anyone tries to stop or arrest their members then it won't be tolerated by them. "Inspector General and Home Security should not become a product of fake rulers", he added. It is your duty to provide a safe route to Nawaz Sharif and all routes should be kept open with no obstacle in the way.
He expressed that they wanted to show solidarity by accompanying him on his way to jail but administration adopted a very strange attitude with them. SP security sent a letter to us with traditional excuses to refrain us from going, he added.
According to the Supreme Court (SC), former Premier's bail will end by midnight tonight and he can turn himself until then.