Last Updated On 27 March,2019 10:00 pm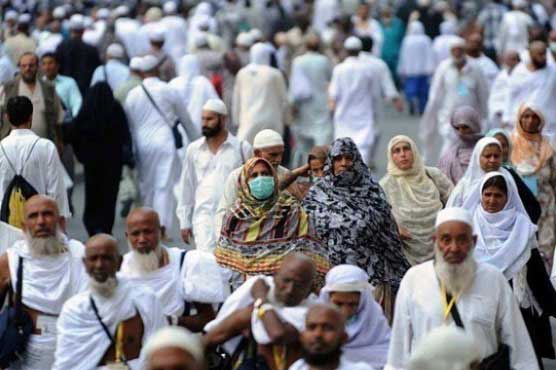 Ratio of official-private Hajj was 60-40 and remaining will perform Hajj through private operators.
PESHAWAR (Dunya News) – Federal Minister for Religious Affairs Noor-ul-Haq Qadri Wednesday said that the 'Road to Makkah' project would soon be launched.
Talking to media in Peshawar on Wednesday, he said that a high level delegation of Saudi government was arriving in first week of April for holding talks for provision of 'Road to Makkah' facility at Islamabad, Lahore and Peshawar airports.
Presently, he said, the facility was provided at Karachi airport where 28000 pilgrims would fulfill immigration, and customs checking process and have not to pass through same process after landing at airports in Saudi Arabia.
The minister said that immigration and custom checking takes around eight to ten hours for pilgrims at Saudi Arabia and if agreement reached they all will not have to face long queues and botheration of waiting for long hours.
The Saudi government, he continued, has also provided for the first time e-visa facility to Pakistan. This facility was provided by Saudi government to only four countries besides Pakistan. The Saudi authorities have also pledged for giving accommodation to Pakistani pilgrims in the jurisdiction of Old Mina during Hajj days besides providing them fresh food instead of frozen, he disclosed.
He also dispelled the impression that number of applications for performing Hajj was reduced due to hike in expenditure. Till now we have received 1,07,000 applications and more were in process for performing Hajj from official quota, he added.
He said the ratio of official-private Hajj was 60-40 and remaining will perform Hajj through private operators.
The minister said government was making all out efforts for facilitation of Hajj pilgrims by providing them maximum facilities during their stay in the holy land, adding that all the pilgrims would get proper Hajj training before their journey for the pilgrimage.
The minister said the Ministry of Religious Affairs had also taken special measures for protecting people from fraudsters in the garb of cheap Hajj packages.
He said a special SMS service has been launched (8331) through which the intending pilgrims could verify authenticity of Hajj group by sending its enrollment number on this number.
We have 798 registered private hajj group operators and people should only apply through these groups and don't pay heed to offers by other groups, Qadari advised.
He said the ministry has also developed five Apps for facilitation of Hujaj through which they could get all type of information from starting their journey till performing hajj besides learning Hajj specific supplications.
Noor-ul-Haq Qadari said Hajj was a very big event involving around 3.2 million pilgrims from around the globe and it is therefore responsibility of press to avoid sensational reporting during Hajj days. He said media should also play its role in educating people about facilities being provided by the government and private group operators for guidance of Hujjaj.
The minister also made a clarification about provision of subsidy to Hujaj. He said previous government gave a subsidy of Rs. 43,000 per Haji in 2018 which was a single time subsidy used as a political ploy to win elections.
This year we inherited arrears of Rs43000 per Haji while devaluation of Pak rupee and some new taxes in Saudi Arabia caused this increase. He also disclosed the ministry was trying to make some saving on different expenditures of Hajj and if it succeeded in its effort, the saved amount would be returned to Hujaj.