Last Updated On 26 March,2019 06:17 pm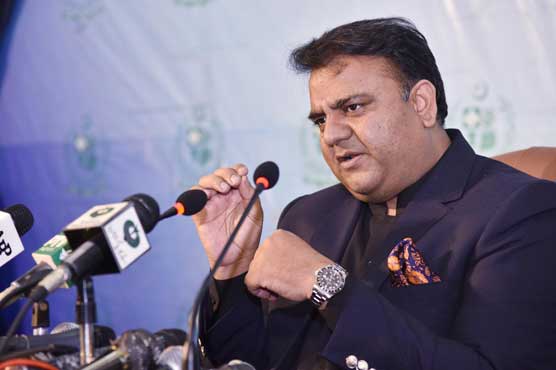 He said plea bargain law is also available if Nawaz wants to permanently go abroad
ISLAMABAD (Dunya News) – Federal Minister for Information and Broadcasting Fawad Chaudhry on Tuesday asked Khawaja Harris, the counsel of former prime minister to suggest Pakistan Muslim League-Nawaz (PML-N) supremo Nawaz Sharif to return the looted money if he wants to go abroad.
Addressing a press conference after federal cabinet meeting in Islamabad on Tuesday, he welcomed the Supreme Court's verdict of barring Sharif from leaving the country and said that the government respects the apex court's ruling.
The top court's verdict is what the government had offered the former prime minister, he said, adding it would have been better if the PML-N supremo had accepted the government's offer.
The minister went on to say that Sharif's narrative has been exposed once again, adding that he doesn't have sickness but has tension of being in jail.
"The government had already offered him treatment anywhere in the country," he added.
Chaudhry said: "Nawaz Sharif has resources and he can call his doctor from abroad, adding he had this offer earlier. The plea bargain law is also available if he wants to permanently go abroad."