PM Imran meets Punjab CM, expresses resentment over MPAs' salary increase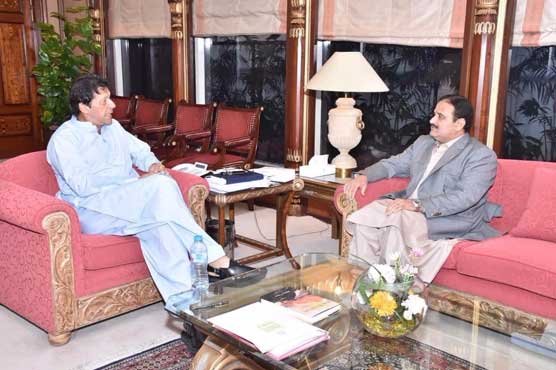 PM Imran Khan directed Usman Buzdar to improve governance in the province.
ISLAMABAD (Dunya News) – Punjab Chief Minister Sardar Usman Buzdar on Monday called on Prime Minister Imran Khan in Islamabad.
During the meeting, the prime minister while expressing resentment over increasing privileges and salaries of members of Punjab assemblies, ministers and chief minister.
Imran Khan said that the provincial government should keep in mind federal government's austerity campaign.
PM Imran Khan further directed Usman Buzdar to improve governance in the province.
The Punjab CM also briefed the prime minister on current political and security situation of the province.
---
PM stops Punjab Governor from signing summary

---
On Thursday, the prime minister had barred Punjab Governor from signing the summary. He had also directed to recall Chief Minister Usman Buzdar in the House.
PM Khan has ordered to review the decision granting lifetime incentives to the chief minister while restricting it to a period of three months.
The premier has termed the decision of providing residence to the chief minister for lifetime 'incorrect'. Following the directions, it was decided to exclude the clause pertaining to the provision of incentives to Chief Minister. The clause will be ruled out by legal means through an amendment.
---
PM Imran expresses dismay

---
Earlier, Imran Khan had expressed dismay after the Punjab Assembly unanimously approved a bill seeking increment in salaries of MPAs, ministers and chief minister.
He took to Twitter and stated, "I am extremely disappointed by decision of Punjab Assembly to raise pays and privileges of MPAs, ministers and especially CM."
"Once prosperity returns to Pakistan such a love could be justified, but now, when we do not have resources to provide basic amenities to all our people, this is untenable," he added.
---
PA passes bill raising salaries of lawmakers

---
On March 13, a bill seeking raise in the salary of Members of Provincial Assembly (MPAs) was approved by the Punjab Assembly. The bill was presented in the House after receiving consent from the standing committee.
According to the bill, MPA's salary and incentives have been increased from Rs83000 to Rs2 lac/month.
The basic salary has been raised from Rs18,000 to Rs80,000/month, daily allowance from Rs1000 to Rs4000/month and house rent from Rs29,000 to Rs50,000/month.
Besides this, the bill has fixed utility allowance from Rs6000 to Rs20,000/month and hospitality allowance from Rs10,000 to Rs20,000/month.