Last Updated On 25 February,2019 08:25 pm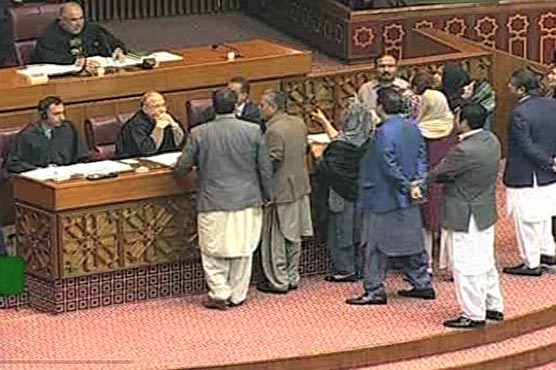 PPP while protesting surrounded the dais of speaker.
ISLAMABAD (Dunya News) – Pakistan Peoples Party (PPP) on Monday protesting the arrest of Sindh Assembly Speaker Agha Siraj Durrani raised a ruckus during the session of lower and upper house.
In the National Assembly session headed by speaker Asad Qaiser, PML-N leader Khawaja Asif demanded that the production orders of Saad Rafique should also be issued in the same way Aleem Khan's have been given.
The speaker while asking him to have patience assured that he will not be disappointed.
PPP's Mir Munawwar Talpur condemned Durranis' arrest saying that his family was held hostage for seven hours. Naveed Qamar while regretting the detention maintained that the treatment of national institutions depict that democracy has lost its significance.
Former NA speaker Dr Fehmida Mirza showed resentment over Munawwar Talpur's reference regarding herself and said that she is not unaware of anyone's reality.
"We all know who attacked Sindh High Court. The directives were being issued from Faryal Talpur's residence," she said.
PPP while protesting against Mirza's speech surrounded the dais of speaker. Qaiser asked her to sit but she refused saying that she will reveal the secrets of PPP.
"Sindh government planned attacks on my house. I have not looted Sindh and Summit bank like they did. I will also bring forward fake degree cases," asserted Mirza.
Asad Mehmood objected over not providing floor to Muttahida Majlis-e-Amal (MMA).
"Three-time elected Prime Minister is not being allowed to have treatment abroad. We will come to D-chowk and will topple you (Imran Khan) along with container," he remarked angrily.
The National Assembly was informed that Beijing is fully satisfied over the progress on China-Pakistan-Economic-Corridor (CPEC) project.
Responding to a point raised by JUI (F) Leader Asad Mahmood in the House, Foreign Minister Shah Mahmood Qureshi said second phase of CPEC has been agreed with China which indicates that Beijing is fully satisfied with the corridor.
Regarding another point, the Minister said there is no change in Pakistan's policy regarding Israel.
To maintain cordial environment in the House, Shah Mahmood Qureshi urged the opposition to cooperate with the treasury benches in running business of the National Assembly in line with the Parliamentary traditions.
He said opposition has the right to raise any matter and lodge protest but it should refrain from creating rumpus in the House.
Minister for Water Resources Faisal Vawda has assured the National Assembly that Pakistan's share of water under Indus Water Treaty is secure and safe.
Taking floor, he said under Indus water treaty, India has the right over eastern rivers and it does not affect Pakistan if New Delhi stops their water.
Talking about Mohmand Dam, the Minister of State said that 18 billion rupees have been saved in negotiating with the bidder. He said out of these, Rs16 billion will be used in construction of Naulong dam in Balochistan.
The House was adjourned to meet again tomorrow at 11 in the morning.
---
Senate Session
---
The House unanimously passed a resolution, moved by Raja Zafar-ul-Haq, condemning premediated reactions, threats, and war hysteria by India in the aftermath of Pulwama attack in India Occupied Kashmir.
It also condemned the frivolous propaganda campaign launched by New Delhi against Pakistan, which is escalating during elections' times in India.
The resolution appreciated government's stance of offering assistance to India in investigations of this attack and to take action on actionable intelligence or evidence.
It reiterated that no one should underestimate Pakistan's ability and commitment to defend its borders against any external aggression.
The House deplored the continued state-sponsored violence orchestrated by Indian security forces against Kashmiris in the form of disappearances, stage encounters, rapes, uses of live ammunition, and pellet guns. It condemned the surge in atrocities perpetrated by India against Kashmiris in Occupied Kashmir and targeting of Kashmiri students in various parts of India.
The resolution reaffirmed the observations made in UN human rights reports, mentioning grave human rights violations in Occupied Kashmir at the hands of Indian security forces. It appreciated a joint resolution of members of the British Parliament for acknowledging human rights violations in Occupied Kashmir and urging the international community to play its due role in getting this stopped.
The resolution maintained that India has failed to suppress indigenous freedom movement of the people of Kashmir against Indian occupation. It urged the government to effectively coordinate with the world community to raise human rights violations at the international forums with a view to seek a final settlement of Kashmir dispute in accordance with UN resolutions.
On request of leader of the Opposition Raja Zafar-ul-Haq, Chairman Senate Sadiq Sanjrani issued production orders of Senator Kamran Michael enabling him to attend current complete session of the Upper House.
Senators belonging to Opposition have called for across the board accountability instead of targeting political opponents.
Taking floor, Raza Rabbani said arrest of Sindh Assembly Speaker Agha Siraj Durrani in Islamabad is condemnable. He said the arrest of Custodian of a provincial assembly is a mockery to the federal parliamentary system.
Siraj ul Haq said the dream of a progressive and prosperous Pakistan cannot be materialized without elimination of corruption. He said a number of Pakistani citizens had been mentioned in Panama papers case but action was taken only against former Prime Minister Nawaz Sharif. He said an indiscriminate accountability is vital to curb loot and plunder of national wealth.
Those who also spoke on the occasion, include Sherry Rehman, Rehman Malik, Saleem Mandviwalla, Maulana Abdul Ghafoor Haideri and Usman Kakar. They termed the detention as an insult of Sindh Assembly.
Responding to Opposition's criticism, PTI Leader Faisal Javed said NAB is an independent institution and government has nothing to do with its action against anyone.
He said NAB has also taken action against PTI leaders like Aleem Khan, but we did not make hue and cry to malign the accountability process. He said the government is working on controlling money laundering which has increased confidence of the international community on Pakistan. He said Foreign Direct Investment and remittances have increased, imports decreased and trade deficit reduced due to prudent economic policies of the government.
Leader of the House Shibli Faraz in his remarks said it is unfortunate that opposition instead of talking about tense situation of Pakistan and India the House discussed arrest of Sindh Assembly Speaker. He said when anyone from opposition is arrested by an institution it becomes a 'threat' to democracy. Shibli Faraz said previous government is responsible for the economic crises of the country.