Saudi Crown Prince predicts Pakistan will become a major economy by 2030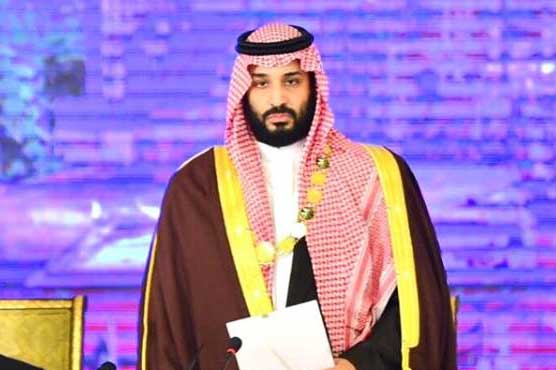 Mohammad Bin Salman says PM Imran Khan's leadership has set Pakistan in right direction.
ISLAMABAD (Dunya News) – Saudi Crown Prince Mohammad Bin Salman on Monday said that he considers the release of Pakistanis imprisoned in Saudi Arabia his duty.
Addressing a joint press conference along with the prime minister at the Nur Khan airbase on Monday, he said that Pakistan is making progress in the leadership of Imran Khan, adding that we see Pakistan as a big economy in his leadership.
The crown prince went on to say that Saudi Arabia believes in the future of Pakistan and it will continue to do more for the development and progress of the country.
"Pakistan has the potential to become a big economy by 2030," has said.
It is pertinent here to mention that Saudi Crown Prince Mohammad bin Salman had ordered immediate release of 2107 Pakistani prisoners from Saudi jails, Information Minister Fawad Chaudhry told in a message posted on Twiiter.
"As a sequel to Prime Minister of Pakistan request, His Royal Highness the Crown Prince of KSA Mohammad Bin Salman has ordered the immediate release of 2107 Pakistani prisoners Saudi Jails," he wrote.
---
Mohammad bin Salman's grand welcome
---
The crown prince, widely known as "MBS", was given a warm welcome in Pakistan, including a 21-gun salute and an honour guard on Saturday.
F-16 and JF-17 Thunder jets of Pakistan Airforce took the plane of visiting dignitary into protective custody when it entered into Pakistan's airspace and escorted it to its destination.
The airplane of Saudi Crown Prince Mohammad bin Salman had landed at Nur Khan Airbase where Prime Minister Imran Khan, Chief of Army Staff (COAS) General Qamar Javed Bajwa, cabinet members and high-level officials received him.
Saudi Prince Mohammad bin Salman reached Prime Minister House, where he was presented a guard of honour. The Saudi Crown Prince was driven to the PM House by Prime Minister Imran Khan himself.
---
Pak-Saudi investment deals
---
Saudi Arabia and Pakistan signed a raft of investment deals Sunday worth up to $20 billion during the first-ever visit of Saudi Crown Prince Mohammad bin Salman to Pakistan.
Seven agreements and Memorandums of Understanding (MoUs) were inked as Saudi crown prince Mohammed bin Salman launched his diplomatic trip to Asia in Islamabad, with Pakistan hoping the deals will provide welcome relief to its teetering economy.
The signing ceremony was held at the Prime Minister House in Islamabad. The sectors include cooperation in production of electricity, establishment of refinery petrochemical plant, promotion of sports and technical assistance in standardization sector.
Saudi Crown Prince Muhammad Bin Salman, Prime Minister of Pakistan Imran Khan, ministers of both countries and delegations attended the ceremony.
---
Pakistan as Mediator
---
PM Imran said Pakistan is ready to play its role in mediating between Saudi Arabia, Yemen and Iran. He emphasized that peace in Afghanistan will bring stability and prosperity in the region.
Imran Khan said Pakistan was known as a peaceful country before Afghan conflict. He added that Crown Prince Mohammad bin Salman is a reformer and he is taking steps to turn his country into a modern and forward looking nation.
"The visit of the crown prince is a manifestation of the strength of this relationship. First, crown prince's visit will strengthen the diplomatic support of Saudi Arabia to Pakistan and will reinforce our relations. Second, I am confident that the economic relations of the two countries will be further expanded by identifying new avenues of investment and as well as Joint Ventures between the two countries. Third, it would further our mutual trust and strong historical relations," the PM said in an interview.
"Pakistan would like to develop an economic and cultural corridor with Saudi Arabia to further expand the bilateral relations. Our relations with Saudi Arabia are not based on the exigencies of time but are time-tested. We hope that Saudi Arabia would invest in other sectors as well to bring the economic and trade relations at par with our political relations." he added.
---
Nishan-e-Pakistan to Mohammad bin Salman
---
Pakistan will confer its highest civilian honour on the Saudi crown prince on Monday, a day after he signed investment deals worth $20 billion on the first stop of an Asian tour.
President Arif Alvi will award Mohammad bin Salman the Nishan-e-Pakistan (Order of Pakistan), the foreign office said in a statement.