Govt to launch major crackdown against hate speech on social media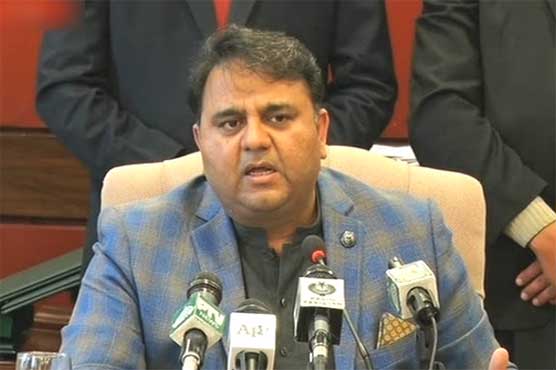 The Information Minister said a mechanism has been finalised to control hate speech on social media.
ISLAMABAD (Dunya News) – The government on Wednesday announced to launch a major crackdown against hate speech on social media.
"A mechanism has been finalised to control hate speech on social media. There was a need to build a capacity to monitor social media and trace fake accounts," Information Minister Fawad Chaudhry stated during a press conference in Islamabad.
The Information Minister regretted that certain elements through fake accounts are resorting to hate speeches and issuing edicts.
"Several persons have already been arrested for using social media to issue edicts, propagate their extremist narrative and issue threats," he added.
He said these elements will be brought to book and enforcement of relevant laws will be ensured to stop these elements from spreading their extremist narrative.
"Our problem is that digital media is over taking formal media so it is important for us to regulate this," Chaudhry added, saying: "Informal media is a greater problem than formal media
The Information Minister said we are also establishing Pakistan Media regulatory authority which will provide one window facility to all the media outlets and ensure enforcement of related regulations.
Fawad Chaudhary said Pakistani nation has almost overcome the menace of terrorism. This was made possible by the resilience of the nation.
The Information Minister said Pakistan has given immense sacrifices in the war on terror and in the next phase we will further consolidate the gains made against terrorism by not allowing those resorting to hate speeches.
---
FACEBOOK SEEKS GOVTS HELP TO CURB HATE SPEECH
---
Earlier on Tuesday, Dr Erin Marie Saltman, the Facebook's policy manager for Counterterrorism in Europe, Middle East and Africa, called on the governments to get behind a movement to stop the spread of online hate speech. She made her plea during her demonstration at the World Government Summit in Dubai.
The Facebook policy manager said that it was no longer enough to simply crack down on posts connected to hate speech as censorship tended to have the opposite effect than was intended, causing the message to proliferate.
Dr Saltman said that agencies from all over the world are having to move quickly to combat the constantly evolving problems created by online hate speech.
In 2018 alone, Facebook removed 14.3 million pieces of content that were identified as terrorist content.
The battle against online extremism became so complicated that Facebook, YouTube, Twitter and Microsoft came together to form the Global Internet Forum to Counter Terrorism in 2017.
The body was set up to "substantially disrupt extremists' ability to promote terrorism, disseminate violent extremist propaganda, and exploit or glorify real-world acts of violence using our platforms".