Last Updated On 12 February,2019 08:18 pm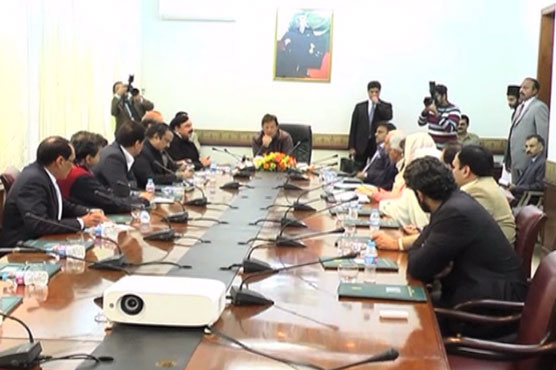 PM Imran Khan said that the issues of masses should be resolved on priority basis.
ISLAMABAD (Dunya News) – Prime Minister Imran Khan on Tuesday said the government ended Hajj subsidy in compulsion as the government is paying Rs6 billion interest over the debt, sources told.
He said this in his meeting with Members National Assembly (MNAs) from Rawalpindi division including Minister for Railways Sheikh Rasheed, Federal Minister Health Amir Kayani Federal Minister for Petroleum, Ghulam Sarwar Khan. Federal Minister for Information and Broadcasting Fawad Chaudhry was also present in the meeting.
The lawmakers discussed issues related to Hajj subsidy and development funds with the prime minister.
On the occasion,, the prime minister said that the Hajj expenses have increased by 35 percent in Saudi Arabia. He said he knew people save money all over the year to perform Hajj.
The government is paying Rs6 billion interest on daily basis over the debt, the premier explained.
---
'People-Friendly Policies'
---
Later in the evening, while addressing a ceremony after inaugurating the Railway Live Tracking System and Thal Express in Islamabad, Prime Minister Imran khan said he 'wished sending Pakistanis for Hajj free of charge if the country did not have prevailing shortcomings.'
ALSO READ: Govt releases Hajj policy 2019
Prime Minister Imran Khan reiterated his government's resolve to devise people-friendly policies on priority basis to take masses out of poverty.
He said the PTI government is implementing its agenda of the welfare of common man.
The Prime Minister said that uplift of the trains system of Pakistan Railways will be taken with the cooperation of China. He said China is far ahead of other countries in development of train systems and like other areas, we will also seek their cooperation in railways sector to make Pakistan Railways modern and customer friendly passenger service.
The Prime Minister lamented that in previous governments policies were designed to benefit the elite class only. He said loot and plundering of wealth in past harmed the national economy. He said due to NROs, the fear of accountability had vanished.
Our loans jumped to 30,000 billion rupees from 6,000 billion due to corruption and impunity from accountability, he added.
The Prime Minister said government is bringing down expenditures at all levels and all ministries have been directed to reduce their outlays by at least 10 per cent.