CJP to leave a legacy of service and lifelong dedication ahead of his retirement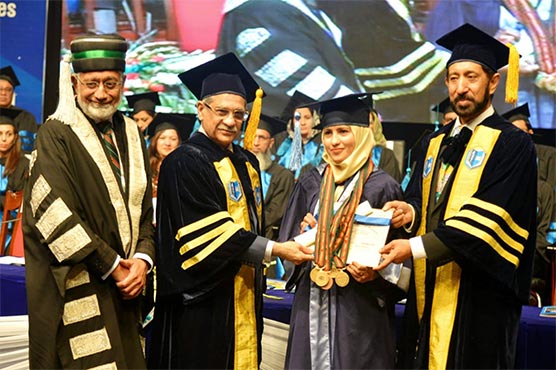 CJP lamented private institutions and hospitals for high-costs and tuition-fee
LAHORE (Dunya News) – The Chief Justice of Pakistan (CJP) Mian Saqib Nisar on Saturday reiterated his resolve to serve the entire nation, and asserted that he has been shown an exemplary dedication to duty with the keen sense of honour and integrity.
Reportedly, he addressed the 4th convocation of Services Institute of Medical Sciences in Lahore where he revealed that he does not sleep more than three hours a day.
As a man of honour, who leaves a legacy of service and lifelong dedication to the country ahead of his retirement in January next month, he stated that he has strived to achieve the rule of law in Pakistan.
"My objectives have been motivated with good intentions in order to resolve core issues of the general public. Fulfilling responsibilities in profession with honesty and dedication is called serving the nation," he said.
He further revealed that when he paid an official visit to Baluchistan, he found no Intensive-Care Unit (ICU) in the biggest hospital of the province and 2,000 paramedics had gone on strike for many days.
---
---
"I was told to not visit the hospital, however I inspected every corner of it and accepted all constitutional demands made by paramedics," he said, adding that he 'adored' every private and state-run hospital and college of the country.
"Students are being charged millions of rupees as tuition-fee in private colleges, and millions of rupees were spent to gain control over hospitals," he further said.
Moreover, he claimed that he had planned to implement effective policies regarding health sector.
He expressed annoyance over quality of education being delivered in private education institutes and said "doctors educated from private institutes cannot even check patient's blood pressure.
"My trial has been started, the result of which will be produced on the day of my retirement," he remarked.
He further said that he had attempted to put the country on the path of development and prosperity in his tenure as the CJP.
He stated that private institutions have been transformed into 'business houses' rather than 'training' centers where students could learn moral standards, righteousness and virtue.
"The court has not intervened in the matters of management of any of the hospitals, however, we have only rectified dysfunctional zones," he further said, adding that billions of rupees were returned to families of patients who were treated in private hospitals.
Concerning external debt and liabilities, he said that every Pakistani was in debt of Rs125,000.