Selected PM's selected accountability not acceptable: PML-N leaders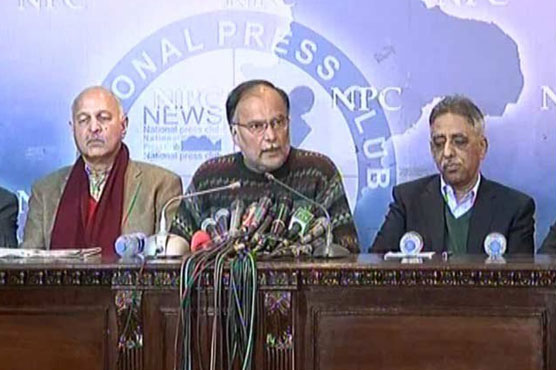 Sharif has been declared owner of the company under mere assumptions
ISLAMABAD (Dunya News) – Leaders of Pakistan Muslim League-Nawaz (PML-N) on Tuesday while reacting to the accountability court's verdict of sentencing party supremo Nawaz Sharif said that no evidence could be provided in the court against the former prime minister.
Addressing a press conference in Islamabad on Tuesday, PML-N leader Ahsan Iqbal said that the accountability court's verdict of sentencing the former premier won't affect Nawaz Sharif and party's popularity.
The former minister said that the selected accountability of selected prime minister is not acceptable, adding that Convention League under the guise of Pakistan Tehreek-e-Insaf (PTI).
"Sharif has been declared owner of the company under mere assumptions," Iqbal said and added no evidence of corruption has been found against the PML-N supremo.
The PML-N leader said: "The former prime minister was sentenced to seven years in prison for not taking salary from his son, adding that if sending money from abroad is a crime, then everyone who sends money from abroad is a criminal."
Iqbal said that cases against PTI leaders are pending for the last 10 years, adding that the PML-N will continue its struggle.
Nation can see how the leader who defeated terrorism is being treated, he said and added those who voted for the PTI are praying to get rid of them.
On the occasion, Muhammad Zubair said that Aleem Khan, Aleema Khan and Jahangir Tareen should also be asked how they sent money abroad.
It is pertinent here to mention that the former prime minister was sentenced to seven years in prison on Monday and fined $25 million on corruption charges by the accountability court.
The court said in its ruling that the three-time prime minister was unable to prove the source of income that had led to his ownership of a steel mill in Saudi Arabia. Under Pakistani law, this is taken to prove corruption.
Sharif had already been sentenced by the same court to 10 years in prison on charges related to the purchase of upscale apartments in London, after the Supreme Court removed him from power. He was freed from custody in September pending an appeal.
Sharif was disqualified from holding office by the Supreme Court in July 2017, and convicted in absentia a year later. He was arrested on July 13 on returning from London.
The court ruled on Thursday on two charges related to Sharif's assets: the Al-Azizia Steel Mills in Saudi Arabia, set up by Sharif's father in 2001, and Flagship Investments, a company established by his son, Hasan Nawaz, that owns luxury properties in Britain.
Sharif was found to have been unable to demonstrate that his family had acquired the steel mill legitimately, but was acquitted on the second charge, relating to Flagship.
Sharif denied the charges which he said were politically motivated. He accused the military and courts of working together to end his political career and destabilize his Pakistan Muslim League-Nawaz (PML-N) party.