Will not back down from holding corrupts accountable: PM Khan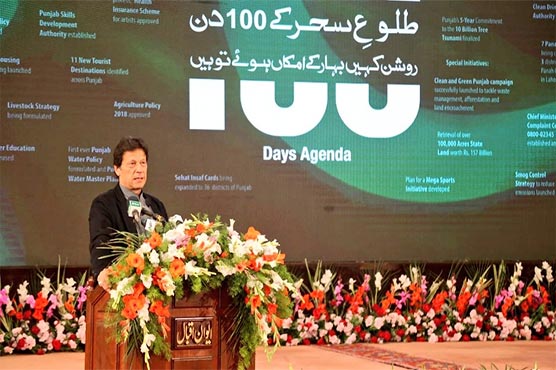 PM Khan was addressing at the special ceremony in Lahore.
LAHORE (Dunya News) – Prime Minister Imran Khan on Saturday said that politicians ruled over Pakistan but made properties abroad.
"The rulers continued to loot the country. Why did the nation tolerated them?" he questioned while addressing at the special ceremony in Lahore to highlight the performance of PTI's Punjab Government in first 100 days.
"PTI government will not back down from holding the corrupt leaders accountable. We will not compromise over corruption. The furture of the country will be at stake if those involved in corruption are not jailed and taken to task," he declared explicitly.
"Today's difficulties are the result of past mistakes. How can those worry about Pakistan who have their vested interests abroad," he emphasized.
Imran Khan said he came into politics to rid the country of corruption.
Referring to the protest of opposition on NAB cases, he said these cases were set up during the tenure of previous government and PTI government has no role in it.
He said the only difference is that incumbent government did not stop the accountability process as done previously.
The premier assured that PTI Government will give progress to Punjab province by taking it out of its present difficult situation. We will ensure rights of the people and all resources are being utilized to uplift the living standard of masses., he added.
"In past, half of whole provincial budget was spent on development of Lahore city alone. Even funds for labor community were diverted to Lahore," he said.
PM Khan asserted that our export is worth $24billion only which is far less than small states like Singapore. He said that pollution level of Lahore has risen to dangerous level due to our previous poor industrial policies.
"Major reforms will be made in various sectors to bring relief to the common man. Civil code procedure will be reformed in order to reduce the time involved in disposition of cases," he announced.
The Prime Minister said the courts will decide the cases in one year time after the introduction of reforms. This will be started in center, Punjab, Khyber Pakhtunkhawa and Balochistan soon, he added.
He accentuated that police reforms are mandatory to depoliticize the department and make it a modern law enforcement force.
The Prime Minister said agricultural reforms are also very important as it acts as a backbone of the country. "Small farmers will be empowered and facilitated to raise their living standards," he mentioned.
Imran Khan highlighted that protection of rights of minorities is part of the vision of Quaid-e-Azam Muhammad Ali Jinnah who struggled for a separate country for Muslims that would also ensure equal rights to people of other faiths.
Prime Minister appreciated Punjab Cheif Minsiter Sardar Usman Buzdar's honesty and Punjab Finance Minister for a crisp presentation about the provincial government's performance.