CNG fuel stations resume operations in Karachi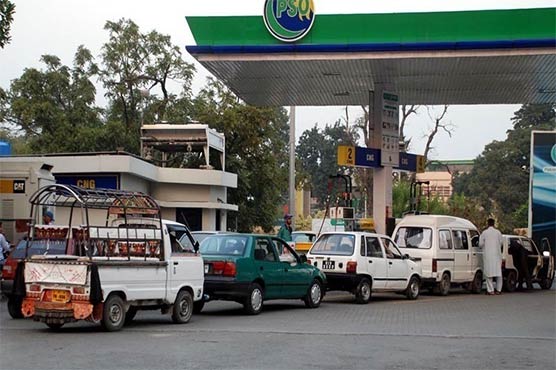 A long queue of vehicles has lined up outside the CNG stations waiting for their turn.
KARACHI (Dunya News) – Karachiites finally received relief on Saturday after the CNG fuel stations resumed their operations after six days.
The gas supply has remained suspended to CNG filling stations and captive power plants of industries for the last six days in several parts of the province.
A long queue of vehicles has lined up outside the CNG stations waiting for their turn.
The development came after Federal minister for petroleum Ghulam Sarwar Khan, who arrived in Karachi on directives of Prime Minister Imran Khan, announced that gas supply to CNG sector will be restored by 8pm.
Talking to media men along with Governor Sindh Imran Isamail in Karachi, he told that following the directives of Prime Minister meetings were held with all stakeholders including Sindh Chief Minister Syed Murad Ali Shah during which the issue was discussed in detail.
The minister maintained that three day closure schedule of CNGs during winter season will continue to be enforced but will be minimized.
He said that representatives of government and CNG sector will be in close touch with Sui Southern Gas Company on the matter.
Also Read: SSGC seals 10 CNG stations in Karachi
Ghulam Sarwar told that gas supply to Punjab industry in Faisalabad and Sialkot was hundred percent restored by converting it on LNG. He said that equal treatment is also being meted out with Sindh in this regard.
The minister asserted that complete relief will be given to Industry sector in Sindh as well.
He informed that it has been decided in his meetings with stake holders that 50 percent gas supply for captive industry will be restored which will increase with the passage of time.
Ghulam Sarwar said that clarified that crisis took place because of shortfall in the system of Sindh gas company as compare to last year.
After the gas crisis emerged, prime minister directed me to immediately rush to Karachi and return once the issue is resolved. He said that the premier has also constituted an inquiry committee on the matter.