Won't allow injustice with Balochistan: CJP Mian Saqib Nisar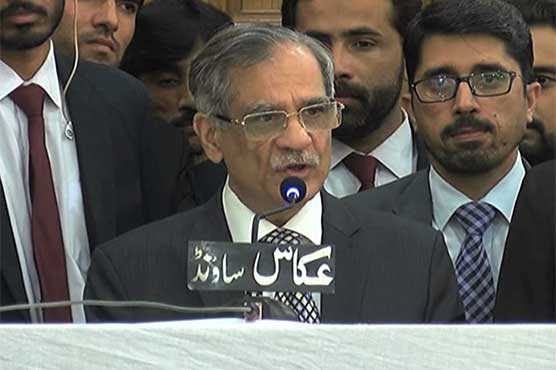 Chief Justice Mian Saqib Nisar inaugurated newly constructed building of SC Registry in Quetta.
QUETTA (Dunya News) – Chief Justice of Pakistan (CJP) Mian Saqib Nisar has today (Monday) inaugurated new building of Quetta Registry of Supreme Court. The CJP, who is in Quetta on a two-day visit, is also scheduled to hear important cases at the registry
While addressing the inaugural ceremony, Chief Justice Mian Saqib Nisar said it does not matter if someone stays or leaves his position, the judges will keep highlighting the issues.
Promising to protect rights of Balochistan, the CJP assured that injustice with the province will not be allowed. The apex court judge called upon his fellow judges at all levels to dispense justice by rising above personal gains.
He also urged the provinces to focus on water management amid severe crisis situation.
He said if due attention is not paid to water crises, the issue might get worsen. He said overseas Pakistanis have donated 7.9 million pounds to the dam fund so far.
Speaking about construction of the new SC Registry building, he said the project has been completed as a result of collective efforts made by the concerned officials and engineers.
CJP Saqib Nisar arrived in Quetta on Sunday where he was scheduled to hold hearing in several cases and likely to issue directives to dispose of the cases henceforth. A dinner was also hosted in honor of the top judge on Sunday.