People face lack of basic health facilities, says Chief Justice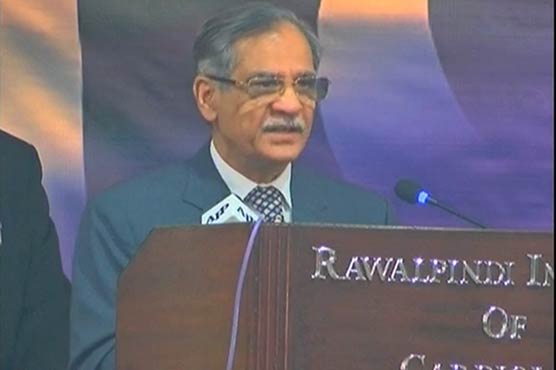 The CJP was speaking during the heart stroke conference.
RAWALPINDI (Dunya News) – Chief Justice Mian Saqub Nisar on Saturday visited Rawalpindi Institute of Cardiology and said that only rich and influential people can afford treatment in Pakistan.
Speaking during the heart stroke conference, he lamented that two to three patients share a single bed in Khyber Pakhtunkhwa hospitals.
"No one cares about the treatment of the poor. Hospitals lack basic machinery," the CJP emphasized.
"The person who does not have any reference is unable to get better treatment which is his right. Now the situation is better than before," he declared.
"The ventilators are dysfunctional in hospitals. Those which are in good condition are for the recommended ones. This shows the complete failure of government in health sector," he asserted.
Chief Justice stressed that a new formula has to be devised for the prices of medicines after increase in dollar price.
The CJP has also donated additional Rs3,00,000 in dam fund.