PM Imran, CJP attend symposium on population control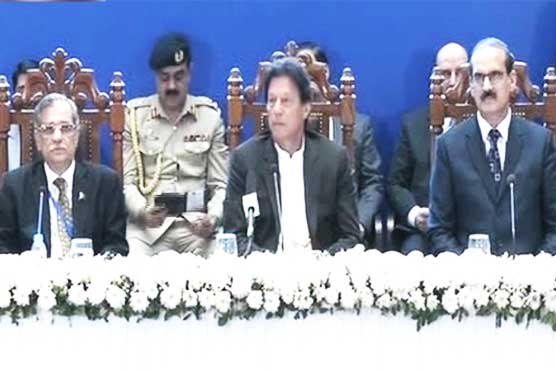 Issues regarding new demographic realities and family planning will be discussed in the event.
ISLAMABAD (Dunya News) – Prime Minister (PM) Imran Khan and Chief Justice of Pakistan (CJP) Mian Saqib Nisar on Wednesday are attending symposium being hosted in Supreme Court (SC) on population control.

According to details, matters regarding new demographic realities of Pakistan, family planning, mother and child's health and advocacy campaign for population planning in the country will be discussed in the event.

Secretary Ministry of National Health Services Zahid Saeed in his address said that CJP has called rise in population a matter of human rights. He said if the population continues to rise at the existing rate, it will become double in thirty years' time.
The secretary said a number of meetings were held on the issue and the provinces have also given their recommendations on controlling the population. He said the Prime Minister called meeting of Council of Common Interest on this issue in which all recommendations were approved with consensus.
He said Pakistan is the sixth most populous country in the world and the main reasons of this alarming increase are lack of awareness and no clear policy on this issue.
Prime Minister Imran Khan and CJP will also address the symposium.

Provincial chief ministers, judges of SC, ministers and other officials including Azad Jammu, Kashmir (AJK) Prime Minister Raja Farooq Haider legal fraternity, experts and government officials are also present in the conference.