London: Dunya Media Group to host fundraising event for Diamer-Bhasha dam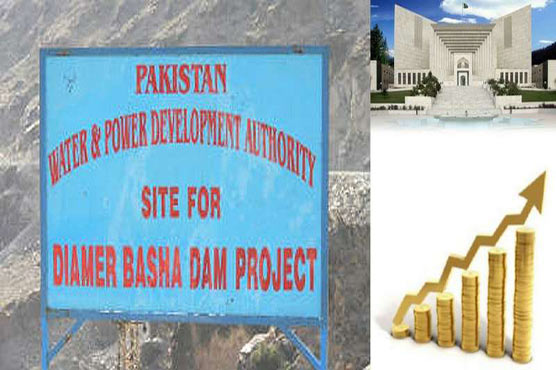 CJP Justice Saqib Nisar will be chief guest of the ceremony.
LONDON (Dunya News) – Amidst soaring water crisis, Dunya Media Group is all set to host Pakistan's largest fundraising ceremony for construction of Diamer-Bhasha Dam in London.
As per details garnered, Chief Justice of Pakistan (CJP) Justice Saqib Nisar will be chief guest of the ceremony.
Dunya News will also hold marathon transmission aimed at amassing funds for the noble cause. The transmission will begin at 12AM and continue till four to five hours.
The ceremony will be attended by renowned figures of Pakistani and local business communities.
CJP has made it overtly clear that no power can bar Pakistan from constructing water reservoirs.
The top judge has become a vociferous standard bearer for the Diamer-Bhasha Dam project after becoming immensely concerned about water shortages in Pakistan, world's sixth most populous nation.
---
The initiative
---
Following a report predicting severe water shortages in the country by 2025, Chief Justice of Pakistan (CJP) Justice Saqib Nisar had initiated a crowd-funding drive for construction of mega-dams to counter growing water crisis in the country.
By contributing Rs1 million, CJP became the first donor. Many others including Pakistan Army, showbiz fraternity and sports personalities followed the much-appreciated suit.
Various branches of the military have donated a whopping $7.3m to the noble cause. COAS presented the letter to CJP which reads, "It gives me (COAS) immense pleasure to share with you (chief justice) that the Supreme Court's decision regarding construction of Diamer-Bhasha and Mohmand Dams has been well received by Pak Army."
Pakistan requires mammoth $14 bn to construct a mega-dam in Diamerg and an additional $2.5 bn to construct another dam, Mohmand, about 125km to the south-west.
---
Contribution methods
---
Citizens can donate Rs10 to the dam fund by typing "dam" and sending the SMS to 8000 which will deduct the amount from the credit of the phone.
Online donations to the fund can be made through internet banking, automatic teller machines and alternate delivery channels. All banks have forwarded the IBANs of fund accounts to their clients via SMS alerts whereas bank-wise list of IBANs is also available at the web pages of State Bank of Pakistan.
The overseas Pakistanis having PKR accounts in Pakistan can also make donations in the Fund through the internet banking facility of their respective banks.