Last Updated On 15 November,2018 08:24 pm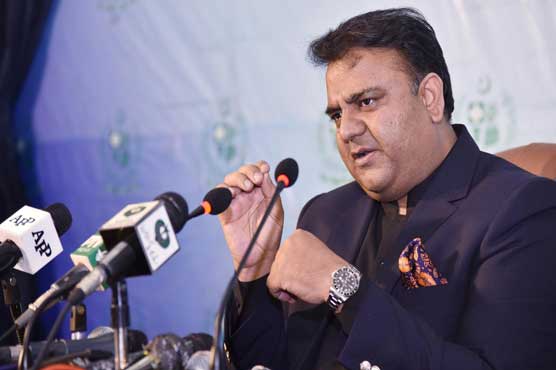 The minister says not even Senate Chairman Sadiq Sanjrani's party was happy with his behaviour
ISLAMABAD (Dunya News) – Federal Minister for Information and Broadcasting Fawad Chaudhry on Thursday said that not even Senate chairman Sadiq Sanjrani's party was happy with his behaviour.
Addressing a press conference in Islamabad on Thursday after federal cabinet meeting, he said that the government regrets Senate Chairman Sadiq Sanjani s behavior, adding that the cabinet also discussed the ruling of Chairman Senate and Prime Minister Imran Khan expressed dissatisfaction on the issue.
"Things won't work out if the Senate chairman couldn't bring balance in the House," he added.
The minister said that no one was satisfied with the Senate ruling, adding that he never used unparliamentary language.
"Defense Minister Pervez Khattak will look into the issue and see if we have to apologise," he said.
It is our responsibility to inquire Maulana Fazlur Rehman, former president and PPP co-chairman Asif Zardariand former prime minister and PML-N supremo Nawaz about the money, Fawad Ch added.
He went on to say that Prime Minister Imran Khan will brief about the achievements of government in various sectors during the first 100 days on 29th of this month.
He said the landmark achievements in education, health, environment, management and other sectors during the three months are a record in history of the country.
The information minister: "The cabinet dilated upon the issue of tenure safety of senior bureaucrats in detail. A suggestion has been made that federal secretaries should be provisionally appointed for a period of six months at a ministry and after successful completion of that period, their appointment will be extended for two and half year. During this period they will not be transferred or removed from their positions."
PM Imran Khan firmly believes that bureaucracy should be free from any political interference, he said and added the appointment of bureaucrats should be linked with their performance and not political connections.
The minister said the cabinet took decision about the rehabilitation of 193 state-owned enterprises by deciding to incorporate Sarmaya Pakistan Company. The prime minister will head the Board of Governors of this company while three ministers will be its members. Top professionals from various fields will be hired to become part of Board of Governors.
Fawad said the cabinet also decided that all Pakistani prisoners incarcerated abroad will be given legal assistance as looking after their interests is responsibility of the government.
He said the government is also committed to bring Dr Aaafia Siddiqui back to the country and all necessary efforts will be made in this regard.
He said the cabinet decided to defer the budget of National Technology Council, till its approval by Economic Coordination Committee.
The minister said the cabinet decided to centralize the process of procurement of equipment for e-governance which was earlier devolved to ministries.