Last Updated On 14 November,2018 10:21 pm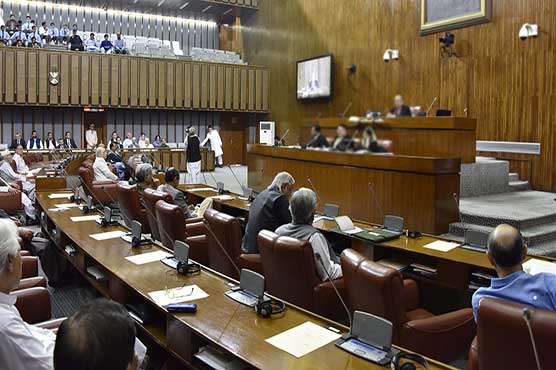 Polling will be held at Punjab Assembly building in Lahore from 0900 hours to 1600 hours
ISLAMABAD (Dunya News) – By-election for two seats of Senate from Punjab, including a general and a reserved seat for women, will be held on Thursday (today).
The seats had fallen vacant due to de-notification of Haroon Khan and Saadia Abbasi as senators in light of a Supreme Court verdict.
According to Election Commission of Pakistan (ECP), the polling will be held at Punjab Assembly building in Lahore from 0900 hours to 1600 hours without any break.
PTI has fielded Waleed Iqbal and Seemi Aizdi while PML-N has fielded Saud Majeed and Saira Afzal Tarar for the two seats.
Earlier, in a major turnaround of events, Punjab Assembly's (PA) two independent lawmakers Ahmed Ali Aulakh and Qasim Abbas put their weight behind Pakistan Tehreek-e-Insaf (PTI) in upcoming Senate by-polls.
As per details garnered, both lawmakers will cast their votes in favor of PTI-nominated candidates.
The two seats in the upper house of the parliament fell vacant after Supreme Court of Pakistan (SC) disqualified two lawmakers of Pakistan Muslim League Nawaz Haroon Akhtar and Sadia Abbasi for holding dual nationalities on the date of filing their nomination papers.
A seven-member larger bench of the apex court headed by Chief Justice of Pakistan (CJP) Justice Mian Saqib Nisar in its short verdict has directed the Election Commission of Pakistan (ECP) to de-notify Saadia Abbasi and Haroon Akhtar.