Last Updated On 14 November,2018 07:07 pm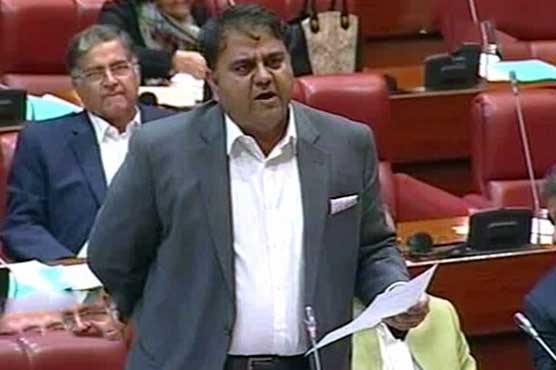 Opposition members are reminded of decorum of the House only when corruption cases are discussed
ISLAMABAD (Dunya News) – Ruckus marred another session of the Upper House of the Parliament after Information Minister Fawad Chaudhry tried to reply in response to Pakistan Muslim League-Nawaz (PML-N) leader and Senator Mushahidullah Khan.
The Senate session again witnessed an exchange of harsh words and opposition staged a walkout after Information Minister Fawad Chaudhry continued attacks on opposition.
Senate Chairman Sadiq Sanjrani stopped from saying anything when a tried to speak on the floor of the House, to which Fawad Chaudhry said that they have been asked to apologise and demanded that PML-N leader Mushahidullah Khan apologise for his comments made on Monday in the House.
The minister asked why opposition members are reminded of decorum of the House only when corruption cases are discussed. He asked the Senate chairman to form a committee to review issues.
Fawad Ch went on to say that the PML-N senator had made comments in his absence, adding that it is not only government's responsibility to run the House but also opposition's responsibility.
"Mushahidullah Khan had used "unparliamentary" language and also demanded that the PML-N Senator apologise for impolite comments.
Sanjrani turned off the mic of the federal minister as opposition members started a walkout.