Faisal Vawda calls on CJP Mian Saqib Nisar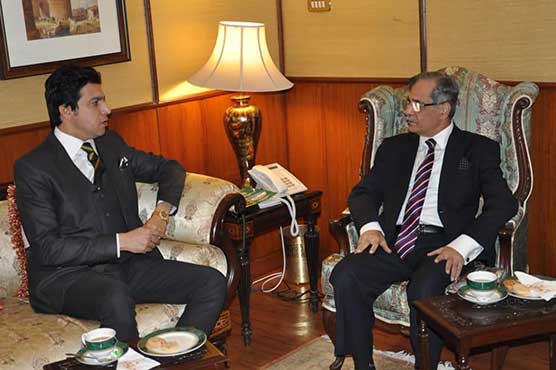 CJP appreciates the efforts of Federal Minister Vawda regarding water ministry
ISLAMABAD (Dunya News) – Federal Water Minister Muhammad Faisal Vawda called on Chief Justice Mian Saqib Nisar in his chambers in pursuance of the directions of the top judge during the International Symposium "Creating a Water Secure Pakistan" held on 19th – 20th October, 2018 at Islamabad that he may meet him after conference, therefore, he came today (Monday).
During the meeting, the CJP appreciated the efforts of Federal Minister Vawda regarding water ministry and steps taken for eradication of corruption from Pakistan and said that his lordship will out rightly be supporting the federal minister for his struggle against corruption and water theft.
Further, he also appreciated the efforts of Federal Minister for taking up the issue of Dasu Dam and his prompt action to resolve the issue on priority basis.
Justice Nisar also appreciated actions taken by the federal ministry against the illegal hydrants in all provinces and directed to provincial governments to support the federal minister to achieve the goals.
Since, the Federal Minister is facing security threats, therefore, the CJP directed law enforcement agencies to provide adequate security to the minister.